Thousands of school students are expected to empty their classrooms and take to the streets across Aotearoa demanding more action from the Government on climate change.  Photo / Stuff
By Mildred Armah for Stuff
Thousands of school students will pour out of classrooms and take to the streets across Aotearoa on Friday, demanding more action from the Government on climate change.
And they are calling on adults to join them.
Youth organisation School Strike for Climate and Fridays for Future have combined forces with other environmental groups to host this year's climate strike, to be held in 11 cities across the country.
In Wellington, the event will start at 2pm, with people gathering at Te Ngākau Civic Square before marching along Lambton Quay to Parliament to arrive by 3pm.
At Parliament, speeches will be given and demands will be laid out to MPs.
The five key demands include:
an immediate end to seeking any new fossil fuel resources anywhere
the voting age lowered to 16
doubling of marine reserves by 2025
the establishment and implementation of a regenerative farming transition fund for farmers
ebike rebates for lower income households.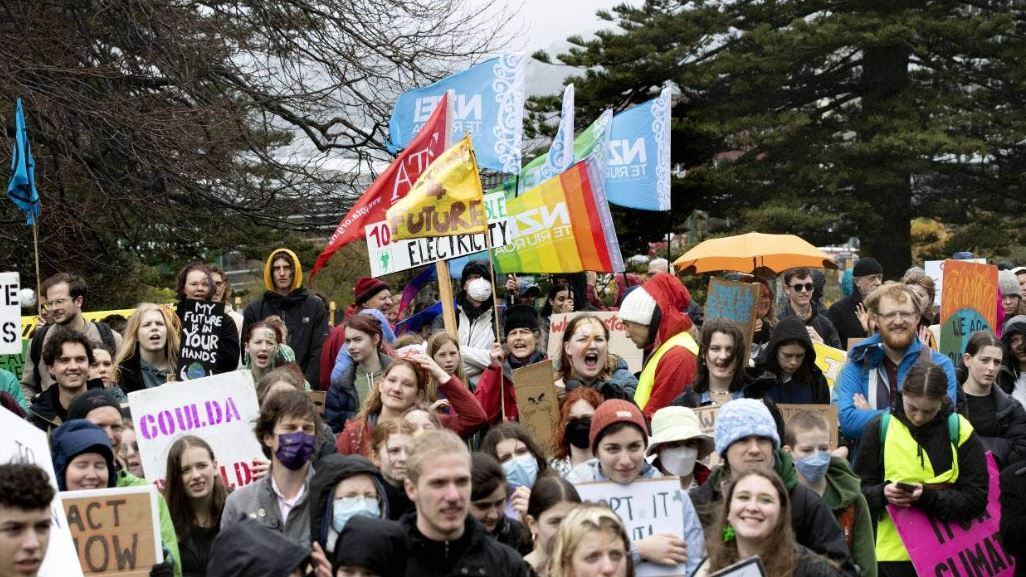 Previous climate strikes have mobilised over 38,000 people across the country.  Photo: Monique Ford / Stuff
In Auckland, the event will start at 3pm outside Britomart Station, and protesters will make their way up Queen St.
"As we start the year with deadly floods affecting the North Island, it is more important than ever that we act now to prevent even more severe weather events in future," Caz Sheldon, spokesperson for Fridays for Future Te Upoko O Te Ika/Wellington, said.
An Auckland Transport (AT) spokesperson said it was aware of a planned march on Friday afternoon that would likely cause significant disruption to traffic and public transport in the city from 3pm until 6pm.
"There will be a mix of one-way and full road closures as the march moves through sections of these roads including SH1, Fanshawe St and the southbound off-ramp."
These Auckland intersections will be closed as the march moves through between 3pm and 6pm:
Customs St and Queen St
Customs St and Albert St
Fanshawe St and Hobson St
Fanshawe St and Nelson St.
Buses in the area will be heavily disrupted between 3pm and 6pm with detours, delays and cancellations expected.
"The impact to traffic flow in the area is expected to be severe and motorists will not be able to access the SH16 Port to north links as the two key east/west corridors on Quay St and Customs St will be stationary.
"Expect extensive delays after 3pm and avoid Fanshawe St and Customs St if this is possible," the spokesperson said.
A police spokesperson said no roads would be closed in Christchurch as a result of the protest.
Previous climate strikes have mobilised more than 38,000 people nationally. This year organisers are hoping for an even bigger turnout.
The last school climate demonstration was in 2022, when Wellington students braved cold and drizzly weather to rally at Parliament's forecourt. Students carried placards with messages including "no more coal, no more oil, keep your carbon in the soil" and "there is no planet b".
In Christchurch, more than 1200 strikers gathered at Cathedral Square then marched to the Christchurch City Council.
About 200 people gathered in Auckland's Aotea Square last year. Unlike previous protests, there were no police road blocks, so protesters were mixed in with traffic.
2023 climate strike locations:
Ahuriri Napier: Soundshell, 11am
Ngāmotu New Plymouth: Puke Ariki Landing, midday
Pōneke Wellington: Te Ngakau Civic Square, 2pm, Parliament, 3pm
Kaitāia: Te Ahu Art Centre, 2.40pm
Tāmaki Makaurau Auckland: Britomart, 3pm
Te Papaioea Palmerston North: The Square, 3pm
Ōtautahi Christchurch: Cathedral Square, 3pm
Ōtepoti Dunedin: Octagon, 3pm
Whakatū Nelson: Trafalgar St, 3pm
Tāhuna Queenstown: Village Green, 3pm
Wānaka: Lismore Park, 3.15pm.