The United Nations General Assembly (UNGA) has passed a resolution urging a humanitarian ceasefire between Israel and Hamas.
It hopes aid can be delivered to the civilian population in Gaza.
The resolution received support from more than 120 member nations, highlighting the global concern for the dire humanitarian situation in the region.
The call for a ceasefire comes amid ongoing hostilities in the Gaza Strip, where civilians have been suffering from the impact of conflict.
The resolution emphasises the need for a cessation of hostilities to allow vital humanitarian assistance to reach the people in need.
However, not all member nations voted in favour of the resolution.
Eyebrows raised
Fourteen countries, including some Pacific nations, opposed the resolution.
In what looks as though they're aligning themselves with Israel and the United States, the stance has raised eyebrows in the international community.
The countries that voted against the UN resolution include Fiji, Tonga, Papua New Guinea, Marshall Islands, Nauru, and Micronesia among others.
Professor Steven Ratuva from the University of Canterbury shed light on one connection the Pacific nations and the United States have.
"One of the important factors in the vote as well is the rise of evangelical movements in the region which are linked to the evangelical movements in the United States, which are in support of Trump, in support of Israel and zionism generally.
He summed up that view as: "Whatever the consequences, Hamas started it and Israel will finish it, it's in the Bible, it is driven, it is the will of God and so forth".
'Dead children seen necessary'
"So when you mix religion and politics together, humanity is out of the window, and the dead children are seen as a necessary way to get there," he says.
Papua New Guinea's decision to have an embassy in Jerusalem and Fiji's consideration of opening one may also be influenced by their connections to the United States, Professor Ratuva feels.
"There are a number of reasons for that. One is the US connection and because they rely on the US in terms of sustenance and in terms of money; they have an agreement with the United States for money to come in."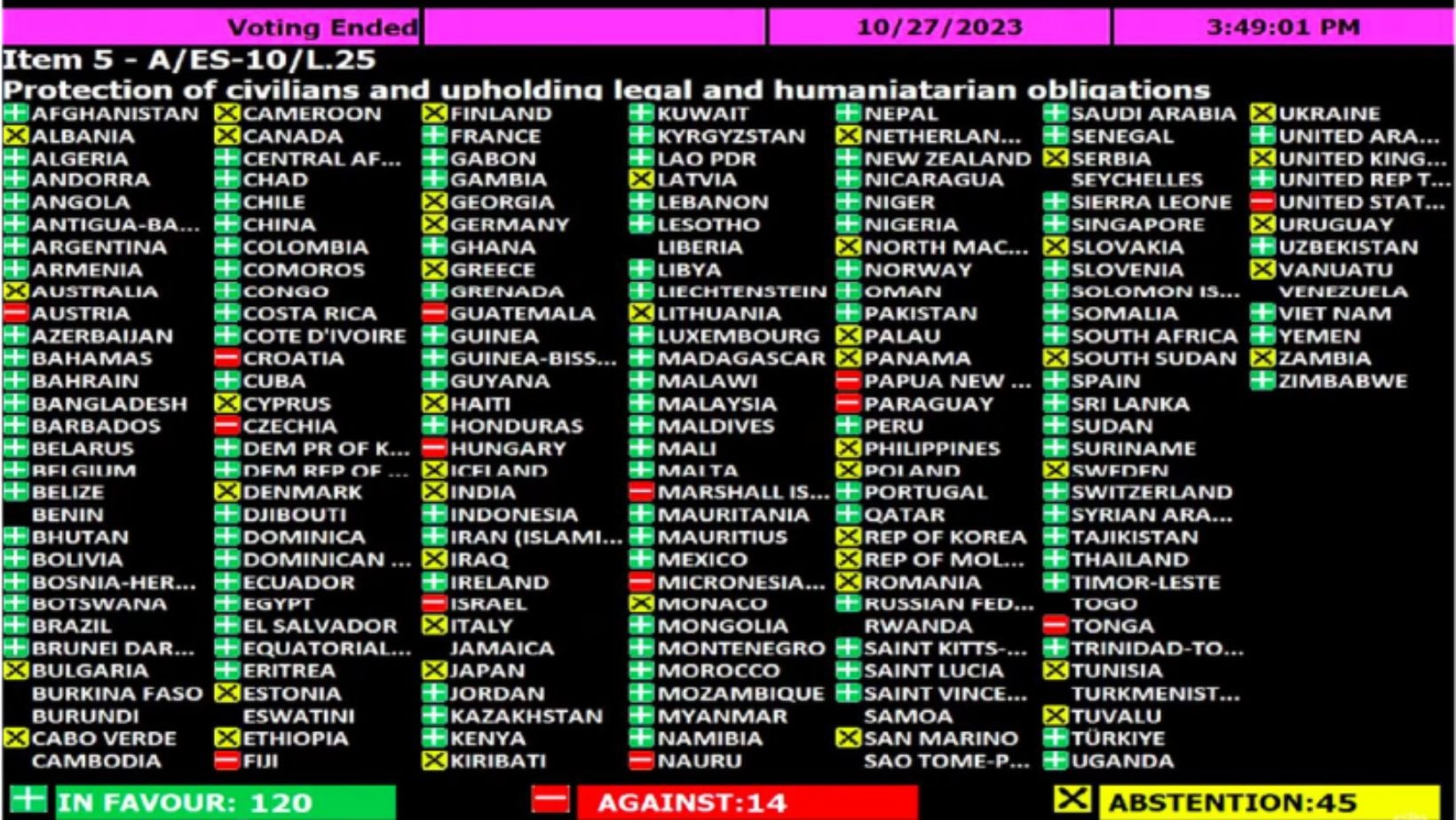 The United States, a staunch ally of Israel, also voted against the UN resolution, aligning itself with the 14 opposing nations.
This voting pattern shows that there is complicated politics in the Pacific region.
Countries such as New Zealand, and the Solomon Islands voted yes to the ceasefire aid, with Samoa, Kiribati and Tuvalu not voting at all.
While the resolution received a majority of votes in favour, it was noted that Israel was not legally bound by the resolution, and Hamas had not agreed to engage in negotiations.