Hollywood superstar Dwayne Johnson made a special guest appearance - via Facetime - at an Auckland lunch where his mum had been gifted a special tapa portrait of her son.
Ata Johnson and The Rock's cousin, Sarona Snukawwe, along with a group of Pacific Island artists - including Tui Gillies and her mum Sulieti Fieme'a Burrows - were invited to a gathering by the Oyster Workshop.
The Oyster Workshop supports Māori and Pasifika creative businesses.
Gillies said she wanted to gift Ata something special to take back to her talented and famous son, who spent part of his early life growing up in Auckland.
"I've seen the love and bond this mother and son share, and it's really beautiful. I wanted to give Ata something that would honour her son's achievements in a way that is special for all Pasifika people. So I painted a portrait on tapa, known as siapo in Samoa. The aim was to celebrate his Samoan roots," Gillies said.
"Like many Polynesians, I have followed The Rock's career with great pride. My daughter has connected more with her Tongan heritage by engaging with Moana and The Rock's portrayal of Maui, while the whole family has enjoyed many hours cheering him on in his action roles."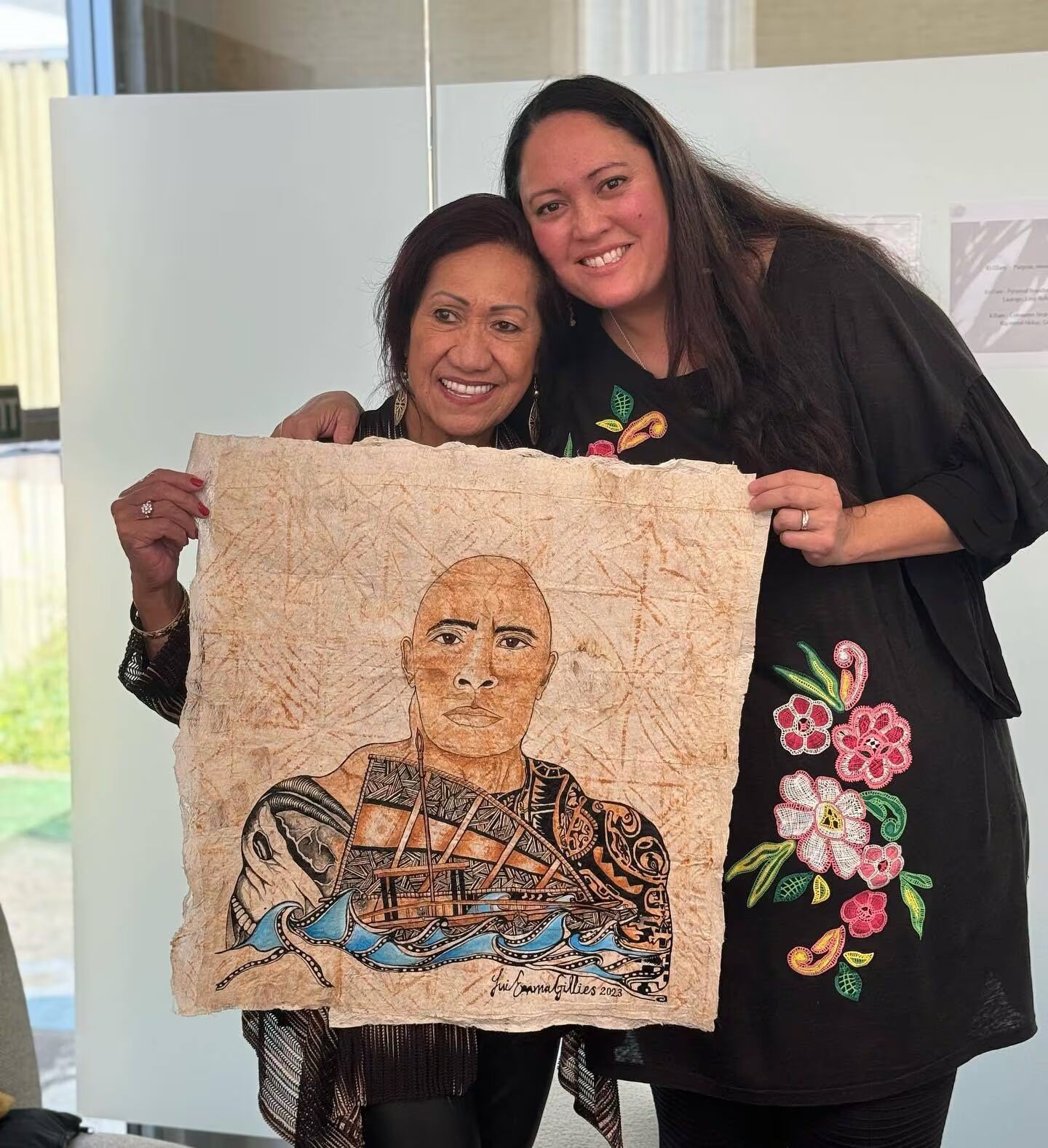 Gillies outlined the significance of The Rock's tattoos and why she added the boat to his chest.
"The boat painted on Dwayne's chest represents a traditional Samoan double-hulled canoe, called an alia," Gillies said.
"Having this as part of the painting is symbolic of our Pacific ancestors taking on huge journeys to travel across great and wild and often dangerous oceans to arrive at new destinations to start a new life... while fishing up an island or two along the way. 😉"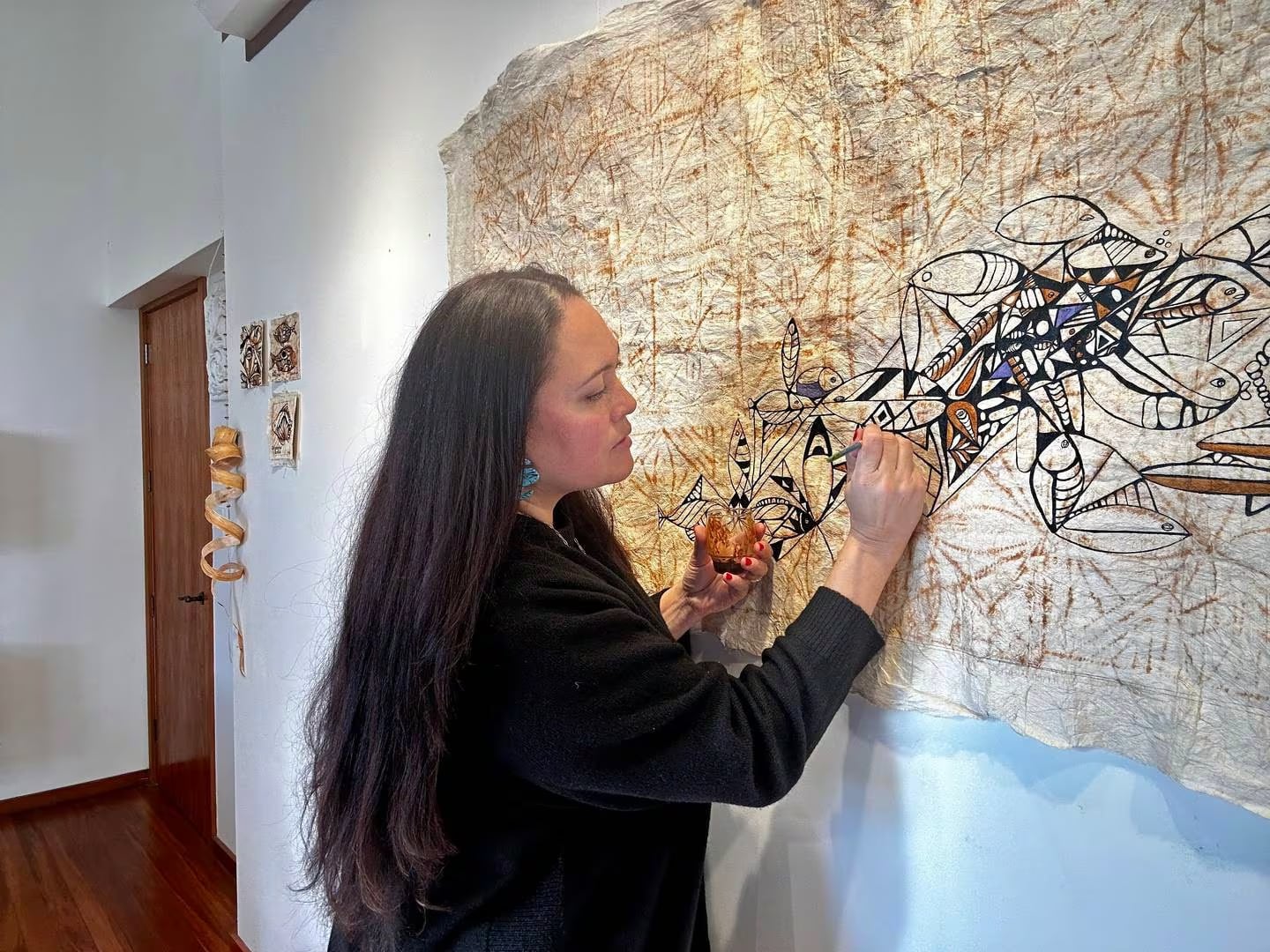 As happens when Pasifika people gather, lunch time soon turned into dinner time.
"The lunch started at 1.15pm and we were all still there just before 7pm (some beyond) and us having to make apologies to head home and feed the kids," Gillies said.
"We didn't end up having dinner but just hung out and had plenty of laughs and bonding and celebrating being Pasifika.
"During the day, @therock himself joined in via FaceTime to say thank you to us all for looking after his mum and niece.
"It really was a heartfelt meeting and we all shared much more than we expected. A beautiful day with beautiful people."
Ata Johnson will return to Los Angeles on Saturday, with her special gift for The Rock.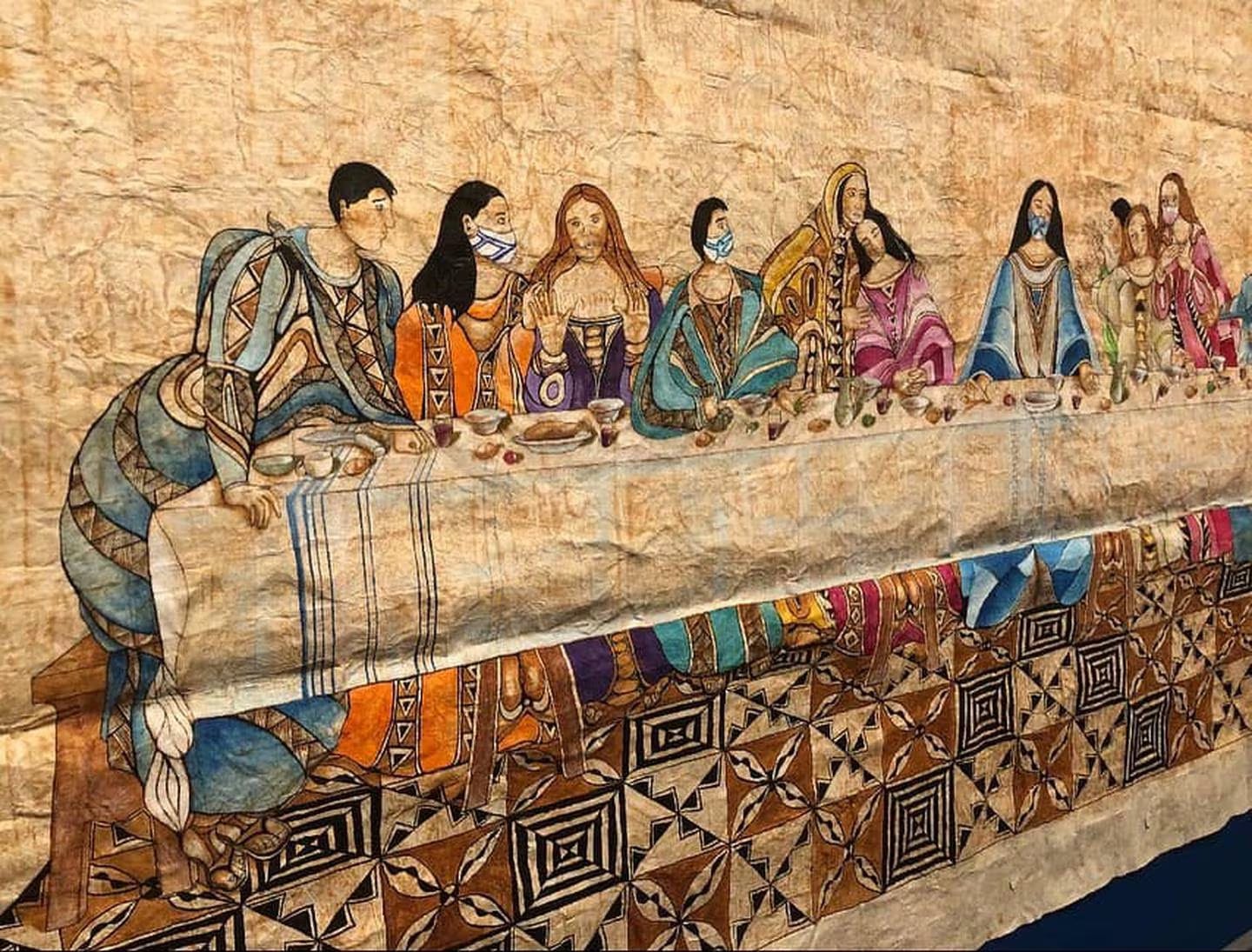 Gillies is a Kiwi-Tongan artist who specialises in tapa art.
Her work mixes contemporary with traditional and can be challenging, confronting and controversial but always with respect.
She has exhibited in New Zealand, Tonga, Australia, the UK, the US, and presented about her art overseas including Austria, Hawai'i, Spain, Tonga and Australia.
She also works a lot alongside her mother as a mother-daughter tapa duo.
-NZME