Going back to the traditional Māori way of parenting is what the Hapū Māmā Wānanga Wahakura is all about. Many local Rangitīkei and Whanganui mothers, mothers-to-be, and couples are participating in an antenatal programme being run by Te Kōtuku Hauora o Rangitīkei, Ngā Kaitiaki Hauora and the Te Ranga Tupua iwi collective based in the Whanganui, Rangitīkei, Ruapehu and South Taranaki districts.
The wānanga is based on reviving the traditional Māori way of having pēpī (babies) in a secure and nurturing sleeping environment, protecting them from SUDI (sudden unexpected death in infancy), and preventing accidental suffocation.
Te Kōtuku Hauora o Rangitīkei general manager Katarina Hina says mātauranga Māori is more relevant now than ever.
"Being able to incorporate our mātauranga Māori and go back to the traditional Māori way of parenting is what this kaupapa is about," Hina says, "And the wahakura (woven flax bassinet) itself is an end product. The other key thing to is when we look around us, we look at our environment, all of those things.
New methods with old
And so, by doing the wahakura, it takes us back into te taiao (the environment) and using all those natural resources that were there back in the day as well. So, it's incorporating new methods with old methods. Our mātauranga Māori is spread right across it."
The participation numbers have increased from anywhere from 26 to 30 plus. The Te Ranga Tupua iwi collective has had this contract for two years so far. It's a role that can be centralised but pushed out to different parts of the region within Te Ranga Tupua (iwi health collective) and delivered in a way unique to that community.
The main risk factors for SUDI are smoking while pregnant, bed-sharing in an unsafe way and the position of the babies when they're sleeping. There are between 40-60 babies that die of SUDI in this country every year.
"I think over the years, they've had different methods and ways in which to sleep pēpī (baby), on their back, on their puku (stomach), or on their side," Hina says. "Sometimes our traditional methods such as when we sleep with our pēpī in our bed and things like that. I've got a nine-year-old who's still sleeping in our be, but that's part of us being close to one another. But it's also understanding some of the effects and things that can actually happen while pēpī is in bed with you."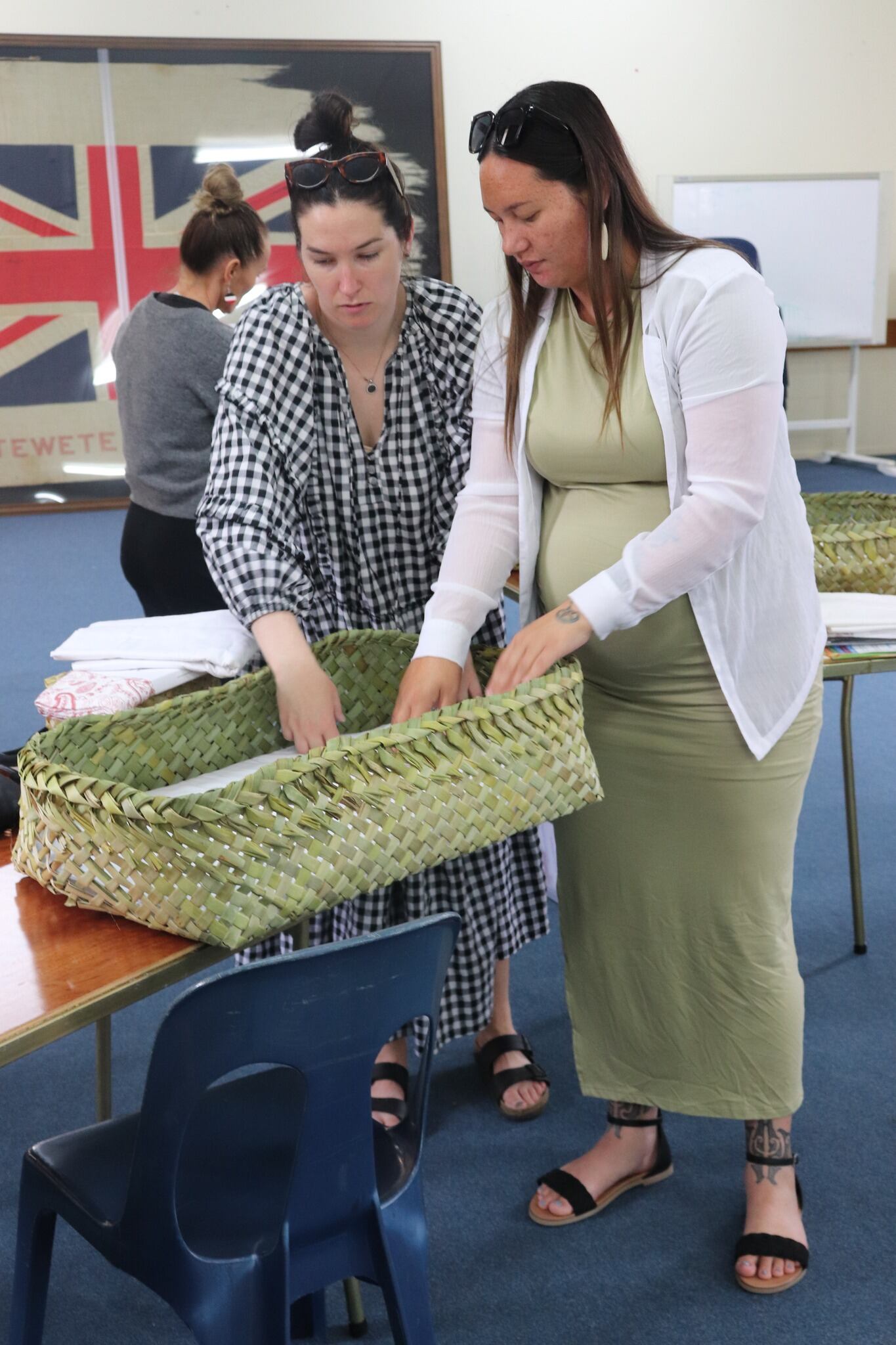 On the weekend the participants of the wānanga got to make their own wahakura from scratch. Reveille Aranga who is on Te Kōtuku Hauora o Rangitīkei staff, a participant at the wānanga, and is expecting to give birth to her first baby early next year, says the whole process of making the wahakura was special.
"So, I went out on the Friday to Tiniwaitara Marae and helped them hauhake (dig up) the harakeke (flax) as well as prep it. And then I also returned on Saturday and weaved it as well. So, I was lucky enough to do the whole process. It was so beautiful. And then at our giveback ceremony just at the weekend gone, Jenny Firman (expert weaver) presented the wahakura and she talked a lot about antenatal. She educated us around what to expect during labour and during hapūtanga (pregnancy) as well. So, there were a lot of things that I wasn't aware of that I learnt, Aranga says.
The wānanga also encourages breastfeeding and there is a focus on how important it is for the baby and māmā to bond. These are aspects of being a mother that many struggle with.
Breastfeeding education
"I suppose it's only difficult when there is a lack of education around it, because before I did the antenatal class, I thought, oh, yeah, you just grab baby, put her on, and good to go," Aranga says. "But no, it's a bond, and it's a commitment between you and baby. I've got to commit, baby's got to commit too. There's a certain angle that you have to go on and a certain way that baby's waha has to be to latch on."
Hina says: "Hearing talk about latching baby, you know, it took me until baby No. 4 to understand how to do that because when I looked at all my other nieces and cousins, oh, they made it look so easy. You know, just chuck baby on. Hell, I'm lucky to have nipples left after my kids. Nourishing your baby and taking that time out to actually stop, educate yourself, really listen, so that you can actually take care of yourself as a māmā is so important."
The wānanga has seen a rise in male participants too, with many young soon-to-be fathers being proactive to learn about how they can best support their partners.
"I've got a cousin who did the wānanga, and just to see her and her tāne (man/men), all the tāne in there, not just going to accompany her, to a hui or a wānanga, but actually fully participating. I mean, when I saw the photos and they were in there weaving, they are both creating that bed for your baby. And often some of our men think 'oh, well, you're the mum, you take care of baby' but to have something that educates them and something that they can really participate in is absolutely awesome," Hina says.
Aranga says, she highly recommends mums attend a wahakura wānanga and weave their pēpī a wahakura. "I've never experienced anything as beautiful as that. And I can't wait to put my baby in it because I created that, all my hard work and sweat, and I broke my back so she better sleep in it," she says with a laugh.