Witi Ihimaera at his home in Herne Bay. Photo / Dean Purcell
By Shilo Kino, NZ Herald
Literary great Witi Ihimaera (Te Aitanga-a-Māhaki) talks with award-winning author Shilo Kino (Ngāpuhi, Ngāti Maniopoto) about changing the narrative and going back to school at 79 years of age, ahead of Witi's Wāhine, a play dedicated to the wāhine toa of the East Coast who inspired him.
I am standing next to Witi Ihimaera in his kitchen, waiting for the jug to boil. He is soft-spoken, gentle and full of manaaki. For a moment I forget I am in the presence of one of our literary greats. We talk about our journey of learning te reo Māori, and I am struck by his humility.
"I honour people who speak te reo," he says. "I honour them very much. I also hope they honour me as someone who doesn't speak fluent te reo Māori."
Ihimaera needs no introduction. He has written award-winning fiction, short stories, scripts, essays, memoirs and librettos, including The Whale Rider and The Matriarch. His recent accolades include the New Zealand Society of Authors President of Honour (2022-23), a Prime Minister's Award for Literary Achievement and an Ockham New Zealand Book Award for his autobiography, Māori Boy: A Memoir of Childhood.
Despite all of his success, at the age of 79, Ihimaera still has a dream he has not yet fulfilled - to become fluent in the indigenous language of Aotearoa.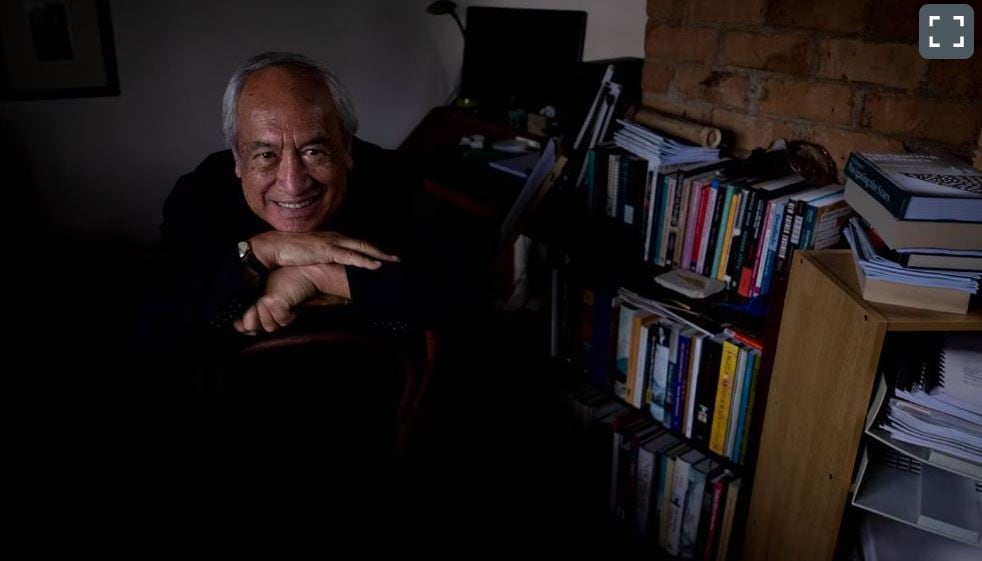 Witi Ihimaera has written award-winning fiction, short stories, scripts, essays, memoirs and librettos. Photo / Dean Purcell
"The voice has always been locked in, and I want to unlock that voice so that I can then start unlocking other things that will come with it."
As we walk over to the lounge with our tea, he tells me: "It was exciting for me to find that you were going to interview me, because I've actually got a question for you. I want to do what you did, a year at Te Wānanga Takiura - a full immersion course. Do you think they will accept me?"
My year at Te Wānanga Takiura was challenging but life-changing in many ways, I tell him with teary eyes. To me, it is remarkable that he wants to embark on this journey. He speaks about his dad, Tom, who could speak te reo but wanted Ihimaera to learn everything about the English language.
"I never ever wanted people to think that I knew everything. And I didn't want them to think that I was a charlatan, passing myself off as being a Māori speaker," he says.
"I have taken the knowledge and mātauranga from my father and mother - my tīpuna - have given me through my books. As somebody who's kind of a representative overseas, as well as here, it's made me realise that I should talk the talk, as well as walk the walk."
He then points to a copy of my book The Pōrangi Boy on the dining table and asks me to sign it for him. Witi Ihimaera - one of our greatest writers of all time - wants me to sign my book for him. I sign it, hand shaking, acutely aware that my writing career would not exist without Ihimaera. He didn't just pave the way for Māori writers, he smashed down barricades and opened the door for many of us to follow through.
"The current generation of Māori writers is so special," he says. "They stand in the mana of their own selves and have great ihi, energy, and wehi. They are amazingly fearless.
"One of the main excitements that I have about seeing work by you and by others of your generation is that people are beginning to understand how complex and complicated, how rich and how diverse, and how huge the pool of Māori creativity is."
While there are now many Māori writers now, it wasn't like that at all when Ihimaera first started out. He was 29 years old when Tangi was published, the first novel in English by a Māori writer. In May this year, Ihimaera will be publishing Tangi in a 50th anniversary edition.
"I read this book called The Māori in the 1960s and at that time, I was 25. I felt terribly angry that although we had been a people living in Aotearoa New Zealand, others had been writing for us," he says.
At the time, Ihimaera was a journalist working for the ministry. He committed himself to two years of learning how to write.
Witi Ihimaera's dad Tom, who could speak te reo, wanted Ihimaera to learn everything about the English language. Photo / Dean Purcell
"I needed to create for myself this image of hope and expectation that I could do more than I thought I was destined for," he says.
"Was it crazy to believe in our own pūrākau, our own stories that had been dismissed in many ways to us? We were told, 'You've just got oral literature, and that's not real literature'. It was important for me to write about Māori and therefore put that in front of everybody so that they will begin to understand well, there is this other reality."
One of the ways the revised version of Tangi will be different is that he is now able to weave in te reo Māori. Fifty years ago, that wasn't possible. Now it is, and that's how much the world has changed, he says. He wrote his first book Pounamu Pounamu to put in front of school students, and this year it will be translated into te reo Maōri.
He remembers being 15 and reading the short story The Whare by Pākehā writer Douglas Stewart.
"It totally disgusted me that in an anthology, this would be the representation of Māori that people would read.
"There was a need to put Māori characters in the middle of the frame, rather than as sidekicks or supporting characters, and there was a need for me to establish a Māori setting with my work," he says.
"The great thing about Māori literature is that we are authenticating the Māori experience from the inside. I committed my life to writing Māori into existence."
I tell Ihimaera there isn't that much difference between him and the generation of Māori writers today. Our stories are born from a sense of anger and injustice.
"At the centre of my work is tino rangatiratanga - sovereignty," he says.
"I always said writing is a Waitangi issue, a part of our Treaty claim. Writing is seeking equal rights, ensuring equality and justice but using the pen as politics."
He cites his novel The Parihaka Woman as an example - the role of women and how Māori have been impacted by colonialism.
"Why should we be looking at knowledge around the world when we can actually have myths and legends as great as those of the Romans and Greeks? We don't need to go to a Marvel university, we have a Māori university."
Even now, Ihimaera is always looking for a way to evolve and challenge the narrative.
He has recently curated the anthology A Kind of Shelter with Michelle Elvy, which will be launched at the Auckland Writers' Festival in May. He describes it as an "innovative new anthology of writing for a changed world".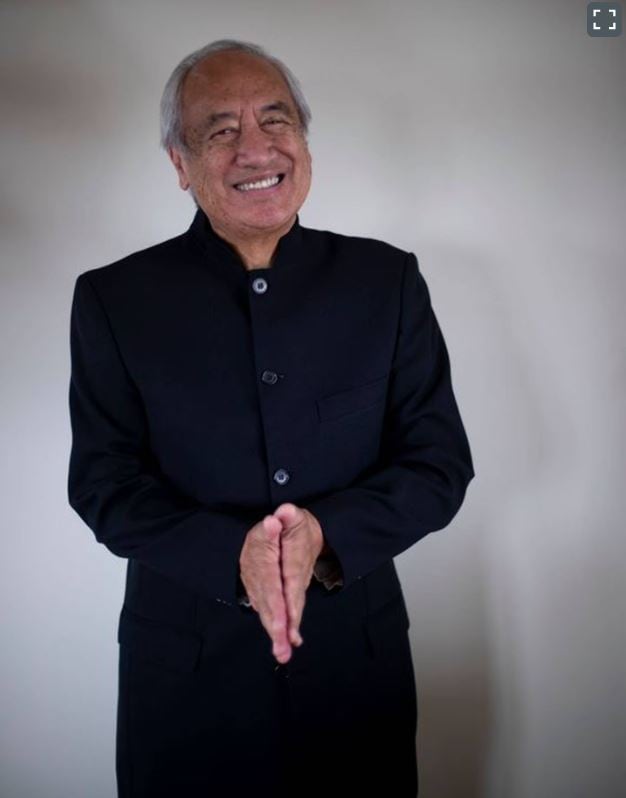 Witi Ihimaera is always looking for a way to evolve and challenge the narrative. Photo / Dean Purcell
"We established a website, Love in the Time of Covid. It was the only website throughout the world that invited people such as artists, writers, sports, nurses and doctors to comment on life under lockdown. The grief they felt, the agony about politics, the ways in which they wanted to reach out to others," he says.
"We asked 68 New Zealand and international artists to imagine: if we were looking out at the world, what would we see? What would the future be like? Climate change, environmental change, the way in which the politics of the world have altered. It turned into this amazingly rich and deep book."
Witi's Wāhine, a play dedicated to the wāhine toa of the East Coast who inhabit Ihimaera's celebrated writing, will also begin playing this May. Ihimaera's whakapapa to Te Whānau a Kai plays an important role in his writing. He will hold a post-show Q&A – with his sisters and aunties travelling in from the East Coast.
"We can always find our political identity of where we come from. All our mana was with the women," he says.
"My nannies were the ones who brought me up - I come from a family of many grandmothers," he says.
As I leave to say goodbye, I write down the number for Te Wānanga Takiura, and he tells me: "Maybe the real reason why you're here is to offer me that awhi so that I can go on my next journey."
That journey is the biggest one Ihimaera will ever embark on - the beginning of his journey of reclaiming te reo Māori.
I call Ihimaera a week later, and he is excited to tell me he has officially put his name on the list at Te Wānanga Takiura.
"Nobody is too old to keep learning," he says.
"This mātauranga is central to all Māori knowledge, and I'm so excited to find the treasures and taonga that I can unlock. I've gone out into the Pākehā world, the international world, and now it's time to go back to my centre, to recharge myself and be tūturu Māori."
Witi's Wāhine, by Nancy Brunning, directed by Ngapaki & Teina Moetara, will run at the ASB Waterfront Theatre from May 2-20.