Swimming star Milan Batchelor Glintmeyer, from Ngāi Tahu and Ngāti Ruanui, is to represent New Zealand at the 2023 World Aquatics Junior Swimming Championship in Israel.
The 14-year-old qualified in April when she won the 100m backstroke at the New Zealand Open Swimming Championships with a time of 1.02.22. It made her the fastest woman in the country in the race.
"It felt really good and to go under that world juniors for qualification was unbelievable," she says.
"It's every little kid's dream to represent their country and it's really awesome that I'm being able to do it at such a young age."
Milan is a member of the Kiwi West Aquatics swim club in Palmerston North. She trains seven two-hour sessions per week, up to 240 lengths per session.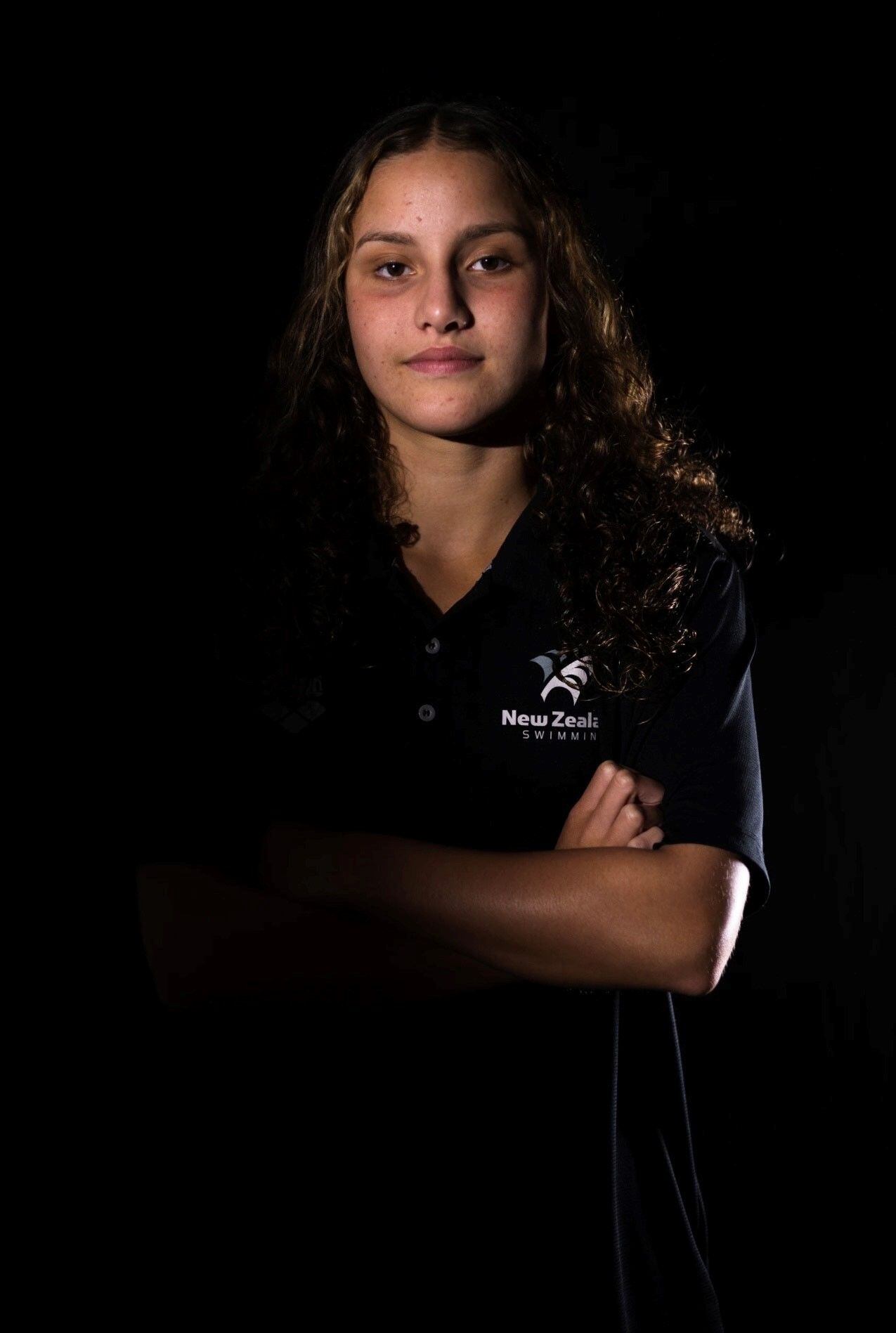 Milan is one of seven athletes to represent NZ at the 2023 World Aquatics Junior Swimming Championship. Source: Swimming NZ
Future Olympian
Milan has also made junior New Zealand age group records, mainly in butterfly, backstroke and medley races. Her coach, Tracy Breuer, who represented the Cook Islands at the 2016 Rio Olympics in swimming, says Milan is an "extremely talented young lady".
"I truly believe if Milan wants to go all the way to the Olympics she could do that," Breuer says.
"The thing that makes her different is that she is really, really focused on all the details. So she'll work on all of the skills and the activities that she needs to try and make it better, make it faster. So that's the difference between her just being super talented and her actually getting there."
Milan wins the 100m backstroke at the NZ Open Water Swimming Championships 2023. Source: Swimming NZ
Whānau talent
Strong swimmers run through the Batchelor Glintmeyer whānau. Milan's mum Niki represented New Zealand at water polo and her younger brother Kase is also a star competitive swimmer also representing Kiwi West Aquatics.
At 12 years old, Kase has already qualified for New Zealand age group nationals (NAGs) but is too young to compete.
His coach says he's a "dark horse".
"I tell you now, he's one to watch out for. At 12, he came back from the junior festival and said to me, 'Tracy, I wanna qualify for NAGs,' and I said to him 'but you won't be old enough to go'. And he goes, 'that's okay. I'm still going to qualify'."
"So in his head, he's ready. As soon as he turns 13 and he can go to those national age groups, he's ready to go. He wants to rock it out."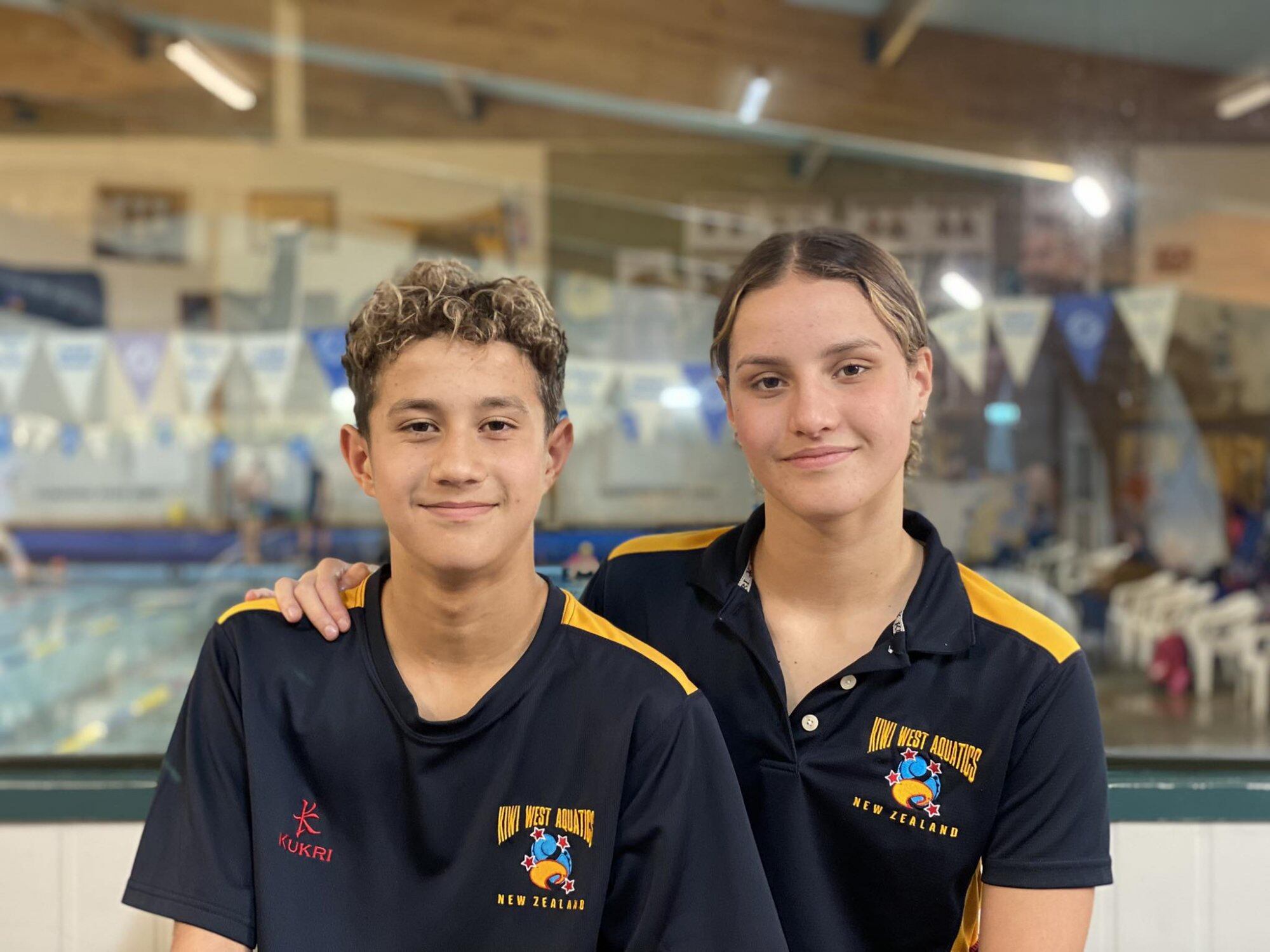 Siblings Kase and Milan both swim for Kiwi West Aquatics in Palmerston North. Source: File
Kase says he loves the social side of swimming.
"You travel around the country and make lots of friends and I love racing just because it's fun," he says.
He says his big sister inspires him because "she works really hard every training."
"She's really cool and I would like to be like her maybe one day, Kase says.
"She'd destroyed me in a race, but yeah, maybe one day I'll be as fast as her."
Milan says she's proud of her brother and "can't wait to see him develop over time."
"My dream is to be on the same team as him and go overseas. It would be great to share the Glintmeyer name out on a bigger stage," she says.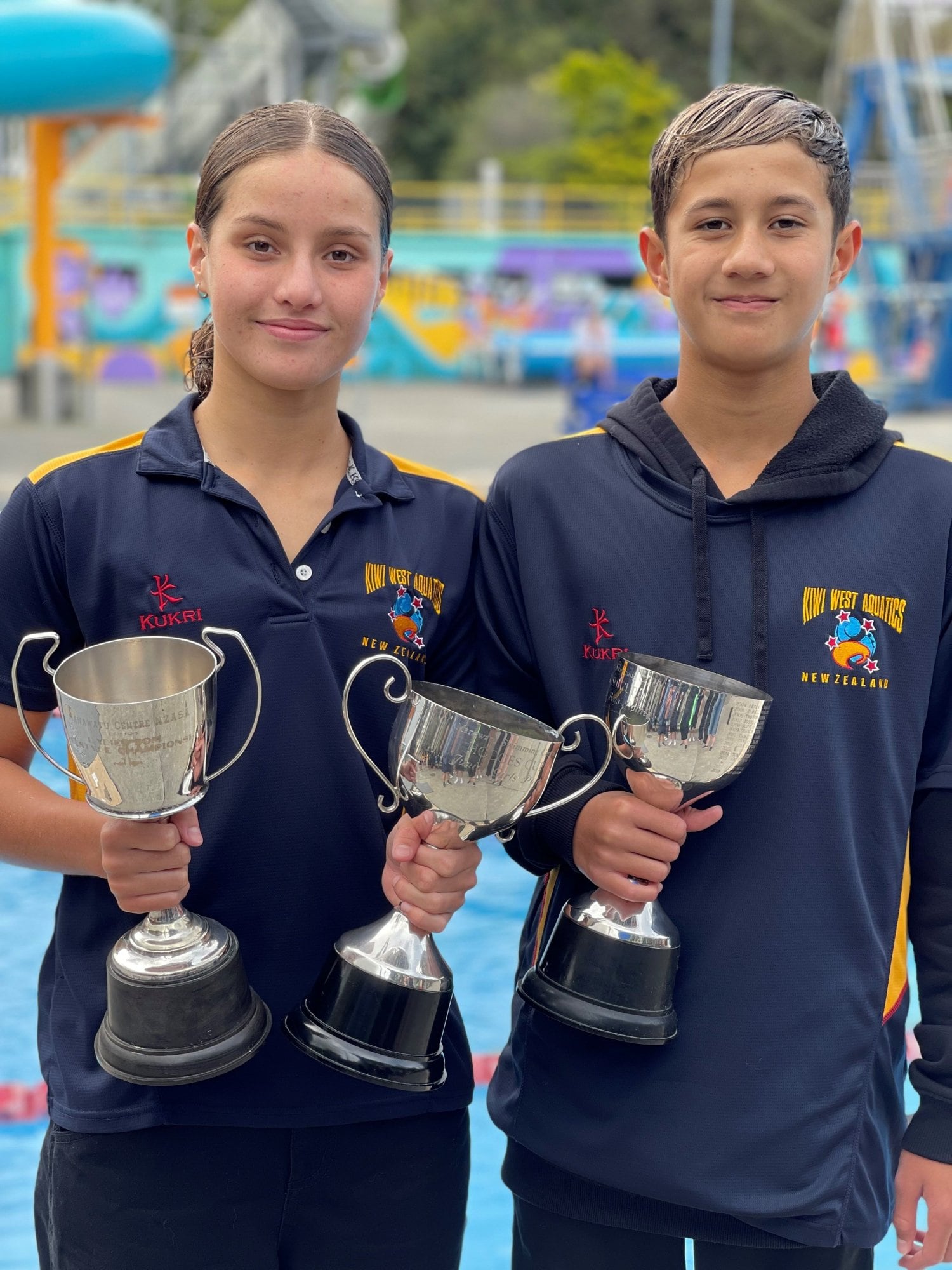 Siblings Kase and Milan. Source: File
Māori swimmers on the international stage
Milan's swimming idols are all Māori including Erika Fairweather of Ngāi Tahu descent; Mya Rasmussen, of Ngāti Kahungunu ki Te Wairoa and Ngāti Kahungunu ki Heretaunga; and Lewis Clareburt of Tainui.
"It's been really cool to watch them through their journey as well as mine 'cause every kid looks up to them and yeah, I look up to them too," Milan says.
"Lewis) has held himself, the way he's developed in the pool, he wasn't an early peaker and so for him to peak late and still do so well is pretty inspiring for everyone."
Breuer says she hopes for more Māori to get involved in competitive swimming because Māori and Pacific Island kids are underrepresented in the sport.
"It would be amazing to see more Māori and Pacific Island, girls especially, and boys getting in the pool, challenging those records because I think they are just naturally gifted and naturally strong. I think they would absolutely smash it so Milan's proof of that."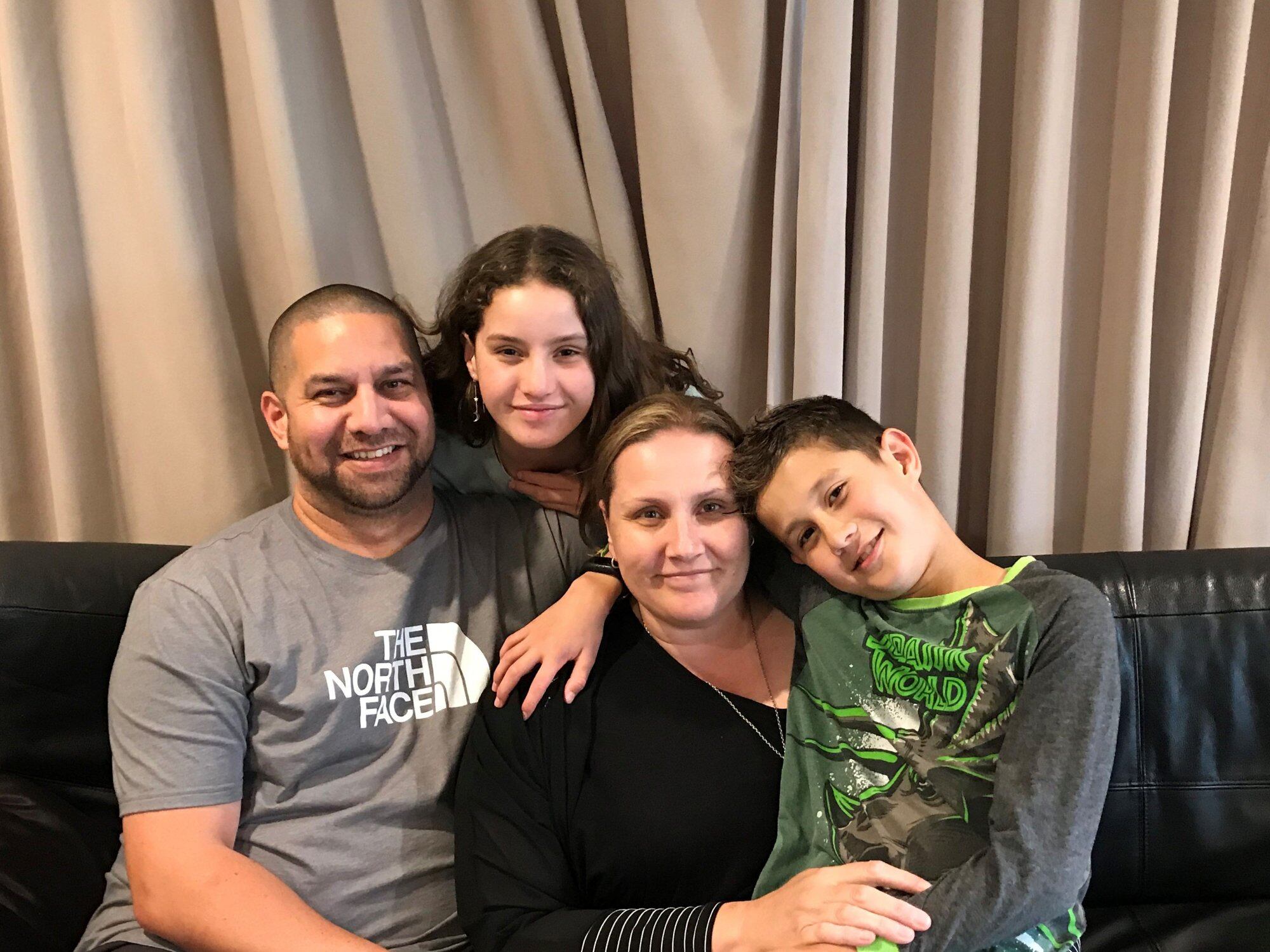 Dad Nathan, Milan, Mum Niki and Kase. Source: FIle
Fundraising and preparation for junior world championships in Israel
In September, Milan will be one of seven swimmers to represent Aotearoa at the junior championships in Israel.
"I'm super grateful. Not everyone gets this opportunity. I'm lucky to have such a supportive crew around me," says Milan.
The trip is self-funded and Milan and her whānau need to raise $10,000 to get her there to cover flights, accommodation, and more.
"There are a lot of fundraisers and also a givealittle page where people can donate if they want to support," she says.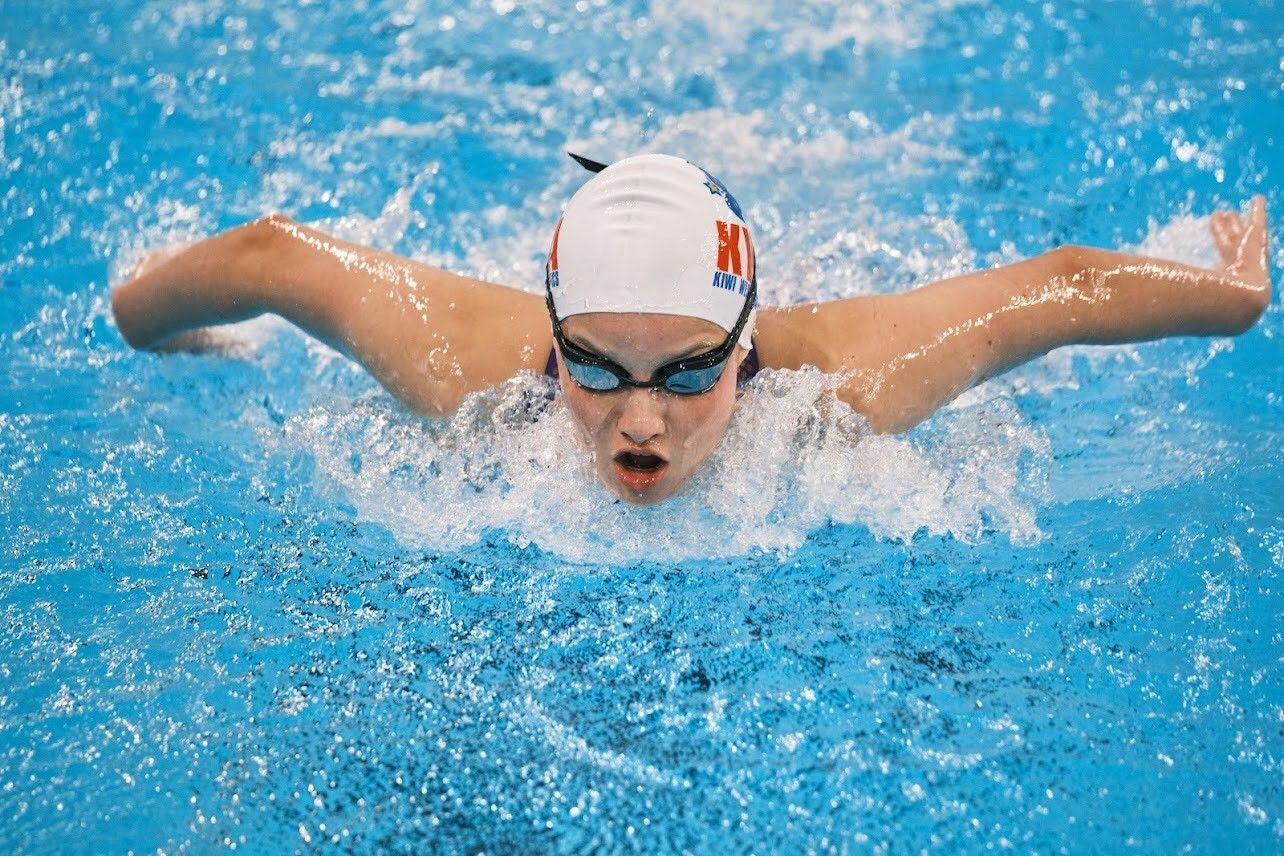 Milan racing a butterfly race. Source: FIle
Until then, Milan will continue training with the help of her whānau and coach.
"[Mum] drives me to swimming every day, so does my dad, but mostly mum and she takes me to all my meets, gets me where I need to be and she's just done stuff that I didn't notice that she did and I've kind of just noticed now that she's had a big impact on how I hold myself as a person."
And the ultimate goal for Milan is to make it to the Olympics.
"It's pretty scary to be this fast as quickly I've got to say, but,  just even in my race, I can see so many kinds of little details that I need to work on and they'll all improve my time and so I'm not too worried about that."