Wāhine Māori conservationist Natalie Jones, who launched a social enterprise to prevent chemicals in sunscreen and plastic from damaging the marine environment, wants international expansion.
Jones (Ngā Wairiki, Ngāti Apa), ecologist and founder of Seasick Sunscreen Co, will begin a local capital raise to boost production for domestic and export growth of the plastic-free sun care product she developed in her Wellington flat in 2019.
As one of New Zealand's few locally made sunscreen companies, the startup has sold more than 5000 product units over the past five years. Annual revenue has also doubled each year.
Jones, who has a master's degree in indigenous conservation studies says she created the sunscreen after learning how harmful current sunscreen offerings were to marine life.
She says customers are asking for more than twice as much product as they are currently producing, and the company is seeking funding to scale up and outsource production and enter new export markets.
"The global sun care product market is growing at 4% per annum and is forecast to reach USD 14.7 billion by 2028," Jones said.
"Sadly, the most common active ingredients of most sunscreens on the market – oxybenzone, butylparaben, and octinoxate – were identified as environmentally harmful to marine ecosystems and can activate viral infections in the microalgae that corals rely on for nutrition.
"Around 14,000 tonnes of sunscreen containing these chemicals end up in the world's oceans every year.
"The next stage of our development will require additional investment to allow us to outsource and triple production volumes, reach new consumer markets and help to raise global awareness of this issue.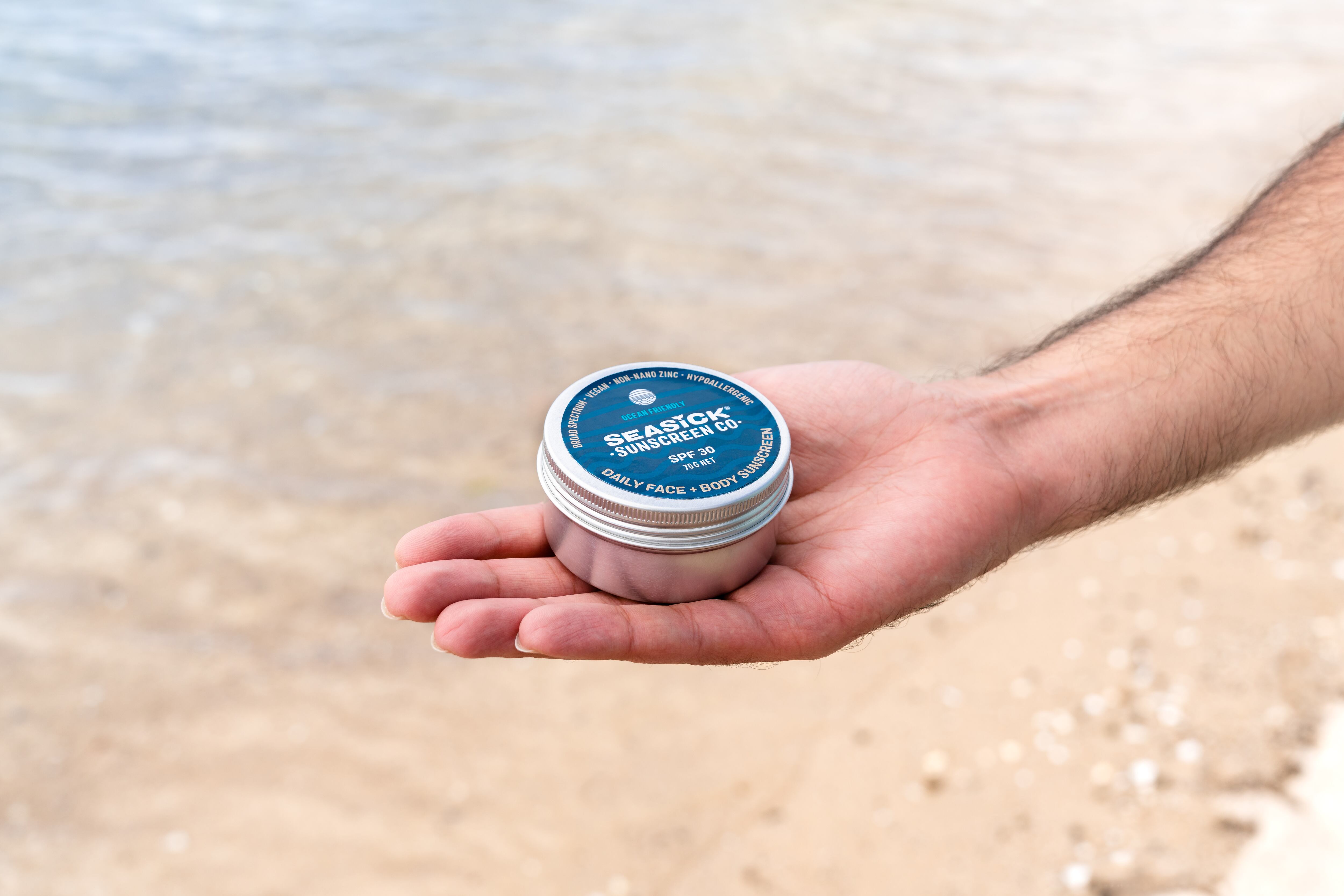 "We believe this opportunity will appeal to the growing segment of environmentally conscious crowd funders."
Jones believes the product is New Zealand's only plastic-free sunscreen made with just seven naturally derived ingredients. Currently, her sunscreen efficacy is tested in Australia's most widely recognised lab.
She says the product has been popular in dive shops where consumer awareness of the impact on marine life is higher.
"Like most entrepreneurs, I started the business based on a problem I wanted to solve for myself. I wanted to create something that was better for the environment, good for my eczema-prone skin, made with fewer ingredients and plastic-free.
"I have pale skin and red hair, but I love to be outdoors surfing, hiking and diving so sunscreen was essential for me. I'm also a passionate conservationist, and I just couldn't find anything in the market that would not only protect my skin but was better for the planet at the same time.
Jones says she would also like to have the product certified "Reef Safe" but is hindered by the US$20,000 price tag of the certification. Currently, no New Zealand-made sunscreens have this accreditation.
Responsibility to safeguard Papatūānuku
"At the heart of everything I do is conservation and since day one we've donated 2% of all revenue to local ocean conservation. We have a responsibility to safeguard Mother Earth (Papatūānuku) and our oceans for future generations.
Jones, who plans to expand the range into Indonesia soon, hopes to one day support indigenous-led education programmes in each of the countries the products are exported to.
"I truly believe that local indigenous-led solutions are the way to go in combating climate change," she says.
Jones has also created a mentorship programme to support wāhine Māori to grow new skills in business confidence and personal development.
In addition to tackling a number of environmental issues, Jones' product has gone some way to address a common consumer complaint about sunscreen chemicals.
Jones says the company is looking to generate $20,000 through online crowdfunding Pledge Me.
-NZME