A First Nations fashion show has wowed audiences at London Fashion Week.
Six Indigenous brands, Kirrikin, Miimi and Jiinda, Liandra Swim, MAARA Collective, Ngali and Kamara Swim came together at Australia House to showcase their newest collections.
Amanda Healy, a Wonnnarua woman and the founder of Kirrikin said it was "nothing short of incredible" and a "privilege" to bring the designers together.
The Kirrikin Foundation led the event as part of its Traveling Runways initiative which aims to showcase First Nations designs on the global stage.
Healy said what makes First Nations design and brands unique is that it always comes back to family, community and Country.
"Almost without exception they are social enterprises - we do what we do because we want to help our families out," said Healy.
"Top of mind is sustainability. Sustainability is 100 per cent in all of our activities and I think we're going to see more and more of that, but we want to be the ones leading the way."
Many of the designs blended contemporary and traditional techniques and paid homage to the designers' own Countries and stories from as far north as Gugu-Badhun and Kutjala in North Queensland and Yolŋu in the Northern Territory down to Gumbaynggir and Dunghutti country in New South Wales.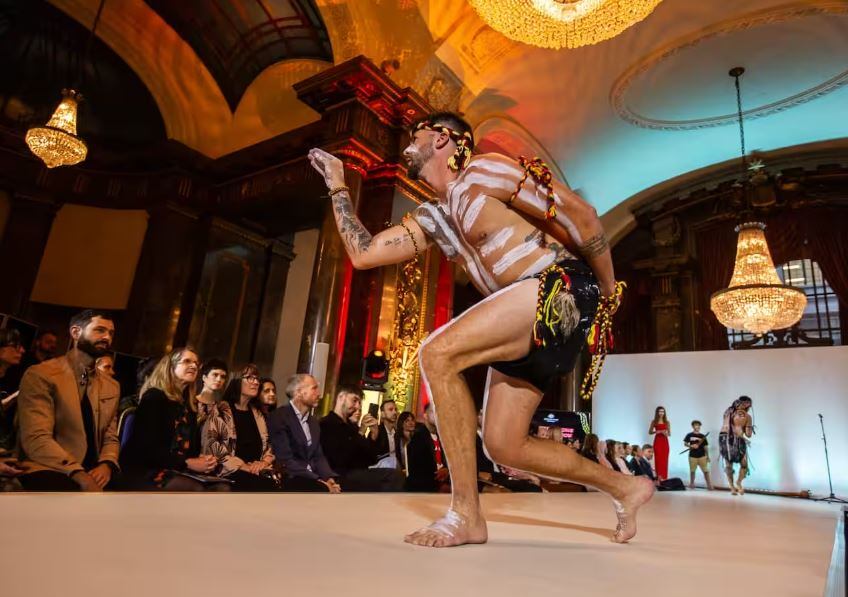 Naomi Kamara Collings, founder of Kamara Swim said it was "unbelievable" that she was there.
"What started as a little brand operating out of Townsville is now being showcased here on an international stage," said Collings, a Gugu-Budhan and Kutjala woman.
Collings also said sustainability is something all designers should be thinking about.
"Focusing on ethical production, made in Australia, quality products and representing Indigenous culture and the important contribution our people contribute to the industry are all really important things."
Kamara was created after Collings was diagnosed with melanoma and focuses on sun-safe swimwear.
Collings said that growing the brand and spreading the "skin health" message is exciting, but as is having the opportunity to introduce new audiences to Indigenous cultures.
"If we're the first step into someone exploring Indigenous culture, feeling proud to be wearing prints that have a story, that have meaning, [and] it has been that first introduction for a lot of our customers, that's something to [be] proud [of] and definitely why we keep going."
The event coincides with the new Australia-UK Free Trade Agreement (A-UKFTA) which makes fashion tariff-free meaning royalties from Australian art and designs resold in the UK will go directly back to artists for the first time.
Now with more UK audiences being exposed to the talent and rarity of Aboriginal and Torres Strait Islander art and design, First Nations designers will reap the benefits of accessing a new market.
Australian High Commissioner to the United Kingdom, Stephen Smith, said the show demonstrated the "excellence and unique offerings" of First Nations fashion.
"It's a great thing to be able to host this fashion show in the iconic Exhibition Hall within Australia House," said Smith.
"It's my hope that the United Kingdom and the world can see the quality of talent and ideas that First Nations fashion designers are bringing to the world."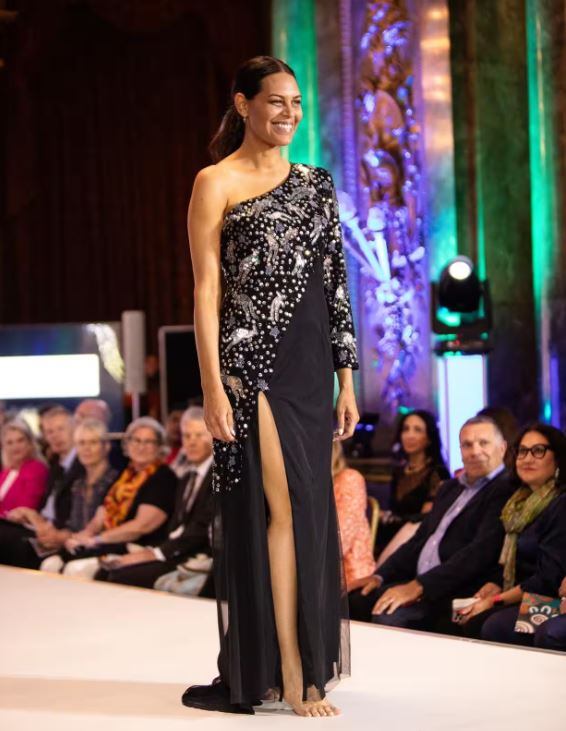 Chief Executive of Kirrikin Foundation, Shannon McGuire, said it was special to see Indigenous designs get international recognition.
"That was amazing," said the Wadjak, Yued and Balardong woman.
"To have international models on the catwalk wearing Indigenous designs was something really, really special."
McGuire said she could feel the support and pride from mob at home.
"The biggest question I've had from mob is 'how do I start working with you', 'can I carry a bag', 'when are you going, sis'?," said McGuire.
"There's been so much support from home. Mob really get around each other and have each other's back when we need it.
"To have them cheering on and showing their support through just even social media has been a lot of fun."