Photo / Supplied
Lani Daniels (Ngāti Hine, Ngāpuhi) won a bruising contest up against the punishing shots of Sequita Hemingway (Ngāti Tūwharetoa, Ngāi Tūhoe) on Friday night in Tāmaki Makaurau, taking a step closer to her IBF world title fight in May.
The victory saw Daniels become the first female heavyweight to claim the more than 100-year-old ANBF Australasian title.
Watching ringside at ABA Stadium were sparring partners Geovana Peres, the retired WBO world light heavyweight champion, and soon-to-be IBO world title contender Mea Motu - plus, Daniels' world title opponent, Alrie Meleisea.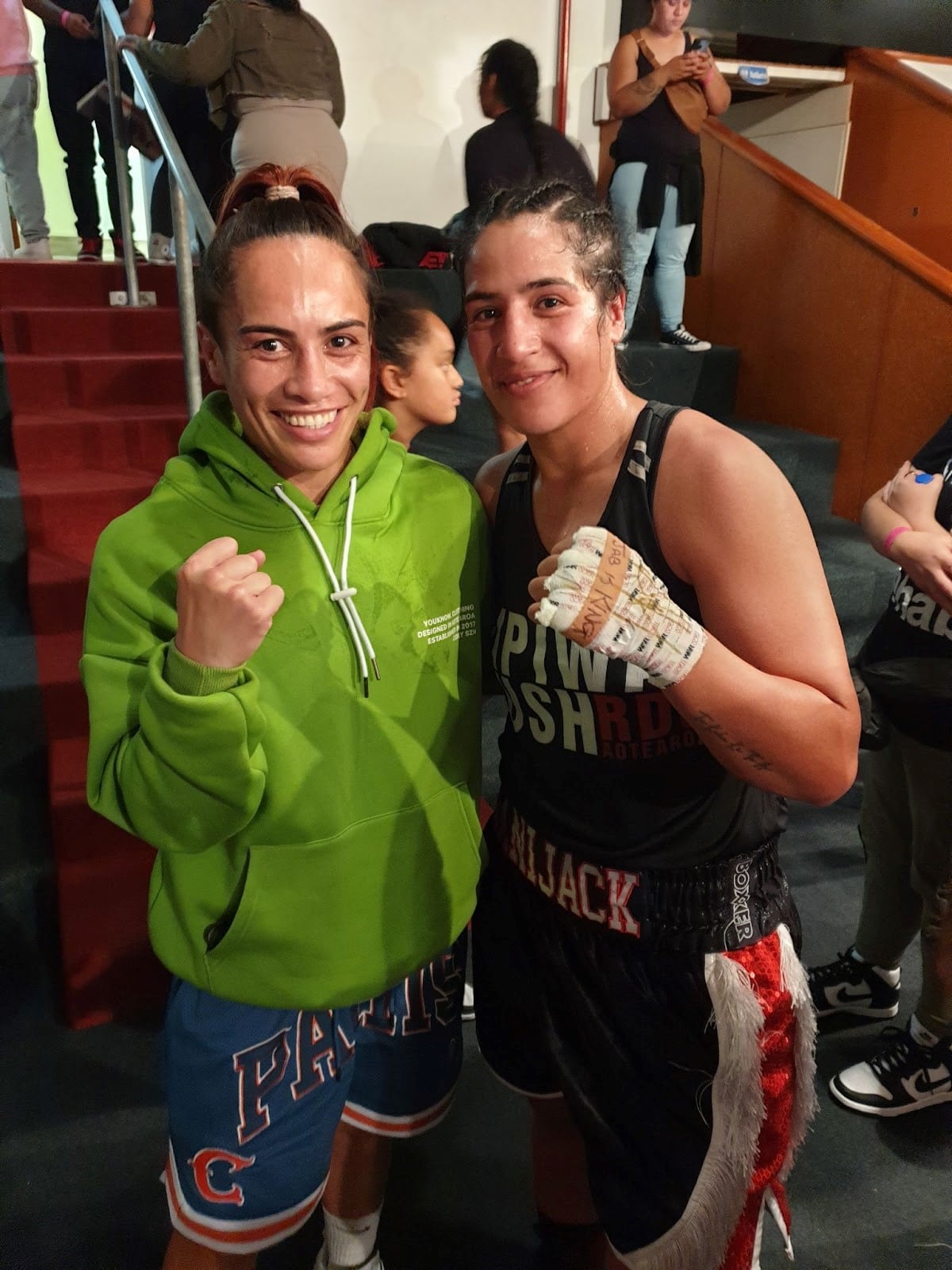 Mea Motu, left, with Lani Daniels after Friday night's victory over Sequita Hemingway.  Photo / Supplied
Daniels looked slick, with excellent head movement forcing Hemingway to miss, and used her experience to make Hemingway receive punishment when counterpunching, boxing scribe Benjamin Watt says.
Hemingway, on the other hand, was walking the majority of the fight but when she got the chance made Daniels pay with punishing shots, he says.
The fight card was not announced but experts estimate the scores to be 77 - 75 in favour of Daniels, who on their reckoning took out five of the eight rounds. "Which means it was a close fight," says Watt.
Earlier this year, Daniels' trainer John Conway told Te Ao Māori News that fights such as this with Hemingway are important building blocks.
"It's a quality fight, you've got to beat anyone that's in front of you. As I tell all my fighters, you don't want to look at your belt in 20 years and think 'I took the easy route'."
Hemingway's team are looking to get their fighter back in the ring soon. She has an event planned for August in Palmerston North but they would prefer she has a fight before then.
Daniels will now head to Hamilton for a week off before hitting the gym again with Conway.
Her IBF world heavyweight title fight against Meleisea is on May 27 at Eventfinda Stadium on Auckland's North Shore.
The fight will be televised on Sky Sports TV in New Zealand and possibly FITE TV internationally.