Horticulture cadet Alannah Malolo Apelu.  Photo / Supplied
By Ashleigh McCaull, RNZ
Apple crop harvesting has begun in Wairoa with the first fruits set to go towards the community pātaka to help support whānau after the town was decimated by Cyclone Gabrielle.
The orchard, which is currently being harvested, is one of the first commercial ventures established by Tātau Tātau o Te Wairoa which is the post-settlement governance entity for Te Rohe o Te Wairoa.
The move to give fruit to the community first is a step towards responding to the need for fresh produce in the town following Cyclone Gabrielle.
Tātau Tātau o Te Wairoa Chair Chief Executive Officer Lewis Ratapu said it is a momentous occasion for the entity because it is the first time their apples are being harvested since they were planted two years ago.
"It was quite an easy decision for us to make, we had these apples that was the first pick, an Envy apple which is one of the top selling apples, grapefruit, it's mainly exported overseas.
"So it just made sense for us as part of lifting the spirits and the wairua of the community to be able to give back an apple that was grown here that represents the future of our community.
"Most apples here tend to go into cider. So this is the first time that we've grown fruit at this scale to give our to whānau in which it will turn into commercial crop in time."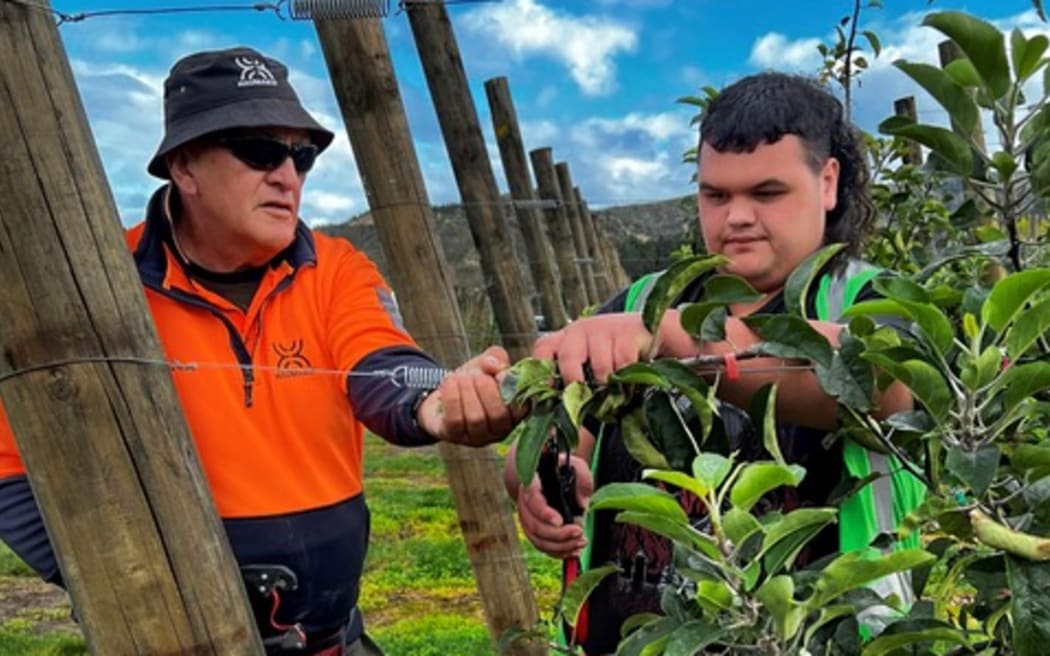 Horticulture cadet Quade Mitchell with cadet supervisor Frank King.  Photo / Supplied
The venture has provided jobs in the area to up to 16 rangatahi cadets, Ratapu said, many of whom are picking for the first time since the first 10 hectares of apples were planted in 2021.
"The orchard that we've built is called a 2D orchard so rather than picking on ladders, you pick on platforms eventually.
"What that means is if you pick onto conveyor belts, you're not carrying heavy bags up and down ladders, so it does provide jobs for not only young fit people and physically fit people but it also opens up to a whole range of other demographics like more elderly people and people who may have a disability, other stuff that prevents them from ever doing other jobs."
Tātau Tātau o Te Wairoa has projected its orchard will add $10 million annually into the town economy and plans to plant up to 530 hectares of fruit.
"All up we're looking at a big scale of at least a couple of hundred million coming back through the Wairoa economy.
"Once we get the scale of it, you know that's gonna make a huge difference to our town.
"That's a 10-year vision but that's the impact that horticulture will be able to provide our community here, so that the social benefits of people in the community is going to be huge," said Ratapu.
Around 30 percent of the homes in the small town were left yellow-stickered after Cyclone Gabrielle while 150 households were displaced, leaving whānau including kaumatua and young children left to live in makeshift accommodation or at the marae.
Tātau Tātau o Te Wairoa also has plans to build 500 new homes over the next 10 years along with providing jobs and trade training.
"Part of our goal was to build new homes here in Wairoa, and that also gets to complement the workforce that we'll need so one of the other parts of our vision is to bring our people home."