Artists Tame Iti and Theresa Reihana work on their paintings for a meth-themed art show in Kaikohe. Photo / Peter de Graaf
By Peter de Graaf, Northern Advocate
A hard-hitting art show in Kaikohe aims to highlight the harm inflicted on Northland families by the drug methamphetamine.
The exhibition, called Fries, Lies and Alibis, features paintings by Northlanders grappling with the drug's effects on friends and whānau, as well as works by established artists such as Tūhoe activist Tame Iti and the Far North's Theresa Reihana and Dallon August.
More than 100 people crowded into Te Pū o Te Wheke gallery on Broadway last Thursday for the opening.
On Friday visitors were able to watch Iti, Reihana and Kaikohe painter Anne Hui creating artworks they donated to the show.
Their paintings will be sold to fund an awareness programme for Northland schools, along the lines of the Not Even Once campaign highlighting the dangers of trying methamphetamine, also known as meth or P.
The exhibition was the brainchild of Karen Browne and gallery founder Sasha Wilson.
Browne said the aim was "to raise awareness, encourage whānau to talk about it, but also to explore solutions".
The 22 artists taking part had been asked to illustrate how meth had affected themselves or their whānau.
The show was a mix of "therapy art" — where art is used to help people come to terms with the problems they face — and works by well-known artists.
"We have people coming in here to make art who are struggling with adult meth-addicted children who become violent and irrational. The rest of the family have to creep around on eggshells, trying to manage their rage," she said.
"Many of them are at their wits' end. They don't know how to cope with whānau members using meth and they are left to look after mokopuna [grandchildren] who are coming to them in a distressed and traumatised state. Some know where to seek support, others don't."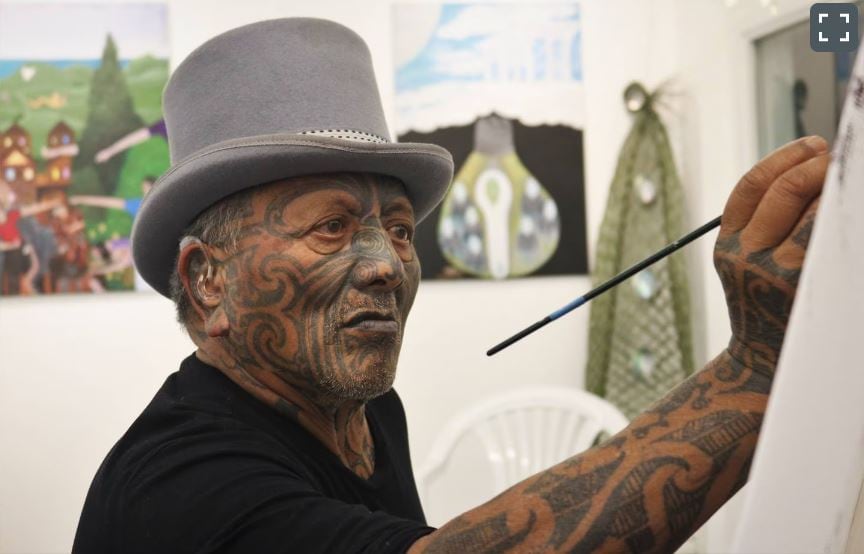 Tūhoe activist and artist Tame Iti works on a painting about returning to ancestral ways to heal from "bad colonial habits" such as methamphetamine use. Photo / Peter de Graaf
Browne believed Northlanders couldn't look to the justice system or the police for answers.
"For one thing, they just don't have the capacity. It's up to the community to explore solutions and this exhibition is part of that."
She was "over the moon" with the turnout and the response from visitors, with some telling her it had given them hope.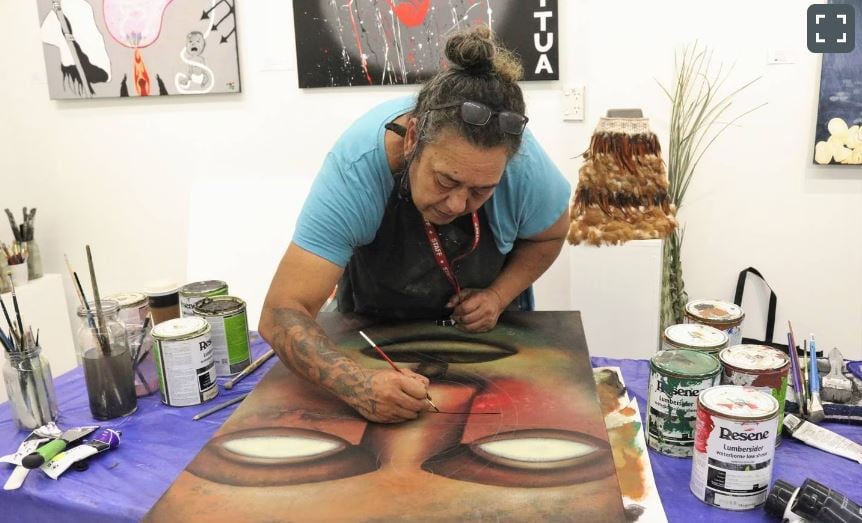 Oruru artist Theresa Reihana works on a painting called Te Ara Taki Tu (The Challenging Path) in response to the meth epidemic facing Northland. Photo / Peter de Graaf
Painter Theresa Reihana said meth use was common where she lived inland from Doubtless Bay.
"It's so prevalent. There's almost no whānau I know that isn't touched by it, including my own, and we don't know what to do."
Tame Iti said his painting was a response to meth and possible solutions.
"We have allowed ourselves to be captured by bad colonial habits. This [painting] is about going back to the old rituals, to try to find a pathway to a better place, to heal," he said.
■ The exhibition runs until March 30 at Te Pū o Te Wheke Arts, 81 Broadway, Kaikohe.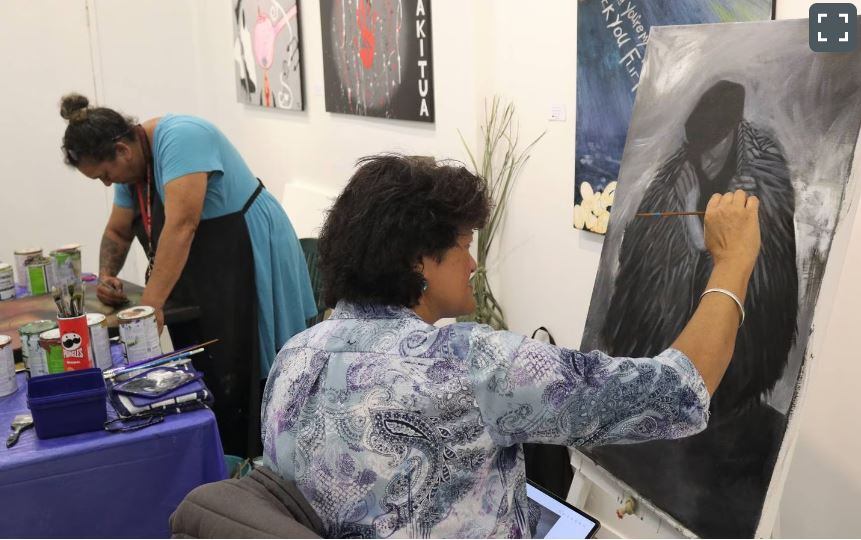 Artists Anne Hui (front) and Theresa Reihana at work at Te Pū o Te Wheke. Photo / Peter de Graaf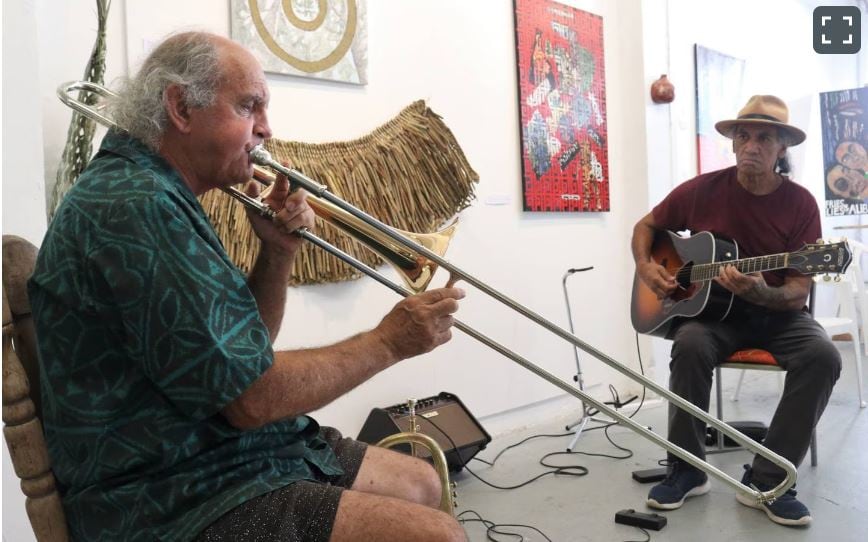 South Hokianga musicians Peter Kelly (trombone) and Nopera Pikari (guitar) provide a live soundtrack for the exhibition at Te Pū o Te Wheke. Photo / Peter de Graaf