The online tool created by Māori artist Hāmiora Bailey and advertising agency Colenso BBDO gives people the option to opt out of royal content.  Source / Supplied
By Eda Tang, Stuff
Just in time for the coronation of King Charles III, ringatoi (artist) Hāmiora Bailey (Ngāti Porou ki Harataunga) wants to give his community the option to opt out of royal gossip.
"Pīkari Mai is a new online web browser tool that replaces fanfare and coverage of the royal coronation… [and] gives our whānau whānui [wider family] something worth reading – indigenous news," they said.
"Celebration of the coronation perpetuates the myth that there is a single Treaty document. Tangata whenua never ceded sovereignty. We created Pīkari Mai as a special artistic project to challenge the coronation.
"We want to honour the volumes of kaituhi [indigenous writers] who have a legacy of prioritising news stories written by, for and about tangata whenua," they said.
"I don't believe that our whānau will benefit in knowing whether Megan and Harry are going, or what Kate Middleton's wearing or how much a diamond costs. I would much rather show people what's happening in their own rohe and what their whānau are doing in terms of kaupapa Māori".
The plug-in works by using a data scrape to automatically scan web pages for keywords and visuals relating to the royal family. It then switches this content out for indigenous articles, sourced from multiple news publishers in Aotearoa.
People who use the plug-in will see that royal content is redacted and replaced and content written by Māori brought to the front pages of the internet. Royals content written by Māori will still appear.
Bailey said that their biggest observation in curating the pool of articles written by Māori is that "we need more kaituhi Māori and regional, localised responses". They said that Pīkari Mai is a whakamiha (show of admiration) to writers.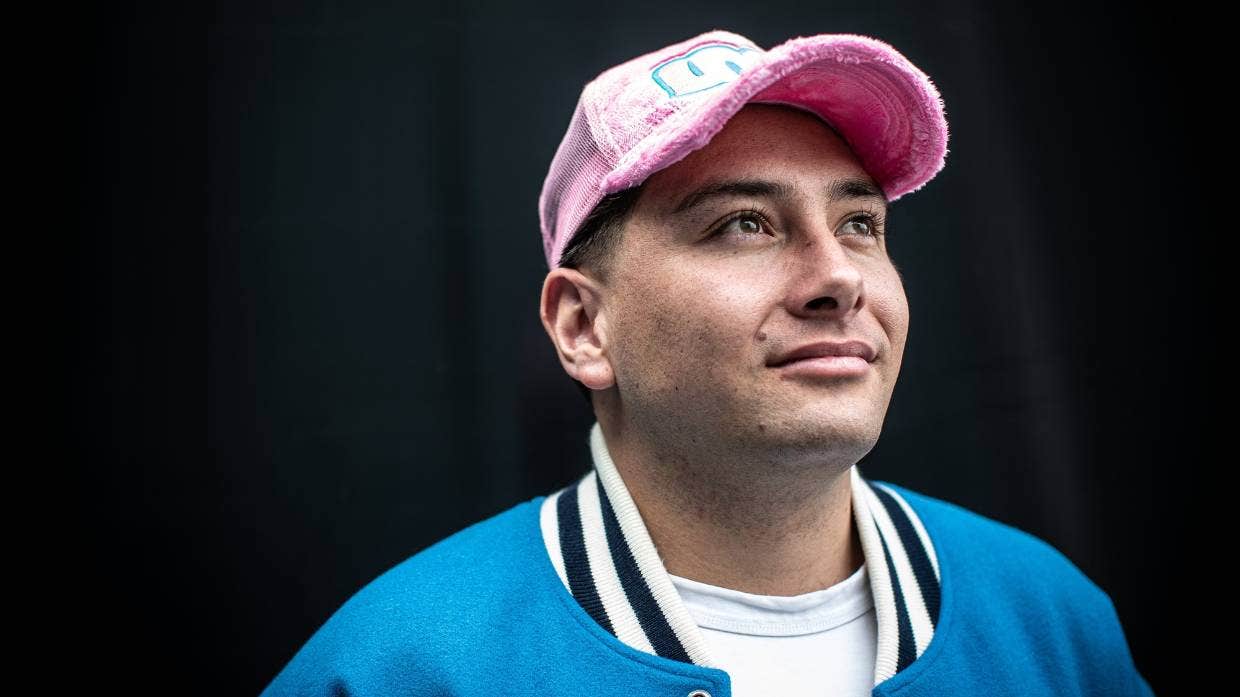 Hāmiora Bailey says that the project is a mihi to Māori writers and journalists.  Jason Dorday / Stuff
"I think Māori deserve as much, if not more media coverage than them as an institution," said Bailey, who wants to put the focus on other rangatira (leaders).
"These ideas of class and industry and institution don't serve us."
Bailey, whose art has often been about interrupting public space, said that this project was different because it offered consumers agency over the way they relate to kaituhi Māori (Māori writers) and tuhinga whaimana (news that matters).
It also approached their social practice in whakatoi (cheeky) and haututū (mischievous) ways. "We deserve to enjoy defining ourselves," they said. "This is a way for me to proudly stand… in my social practice as an artist… and mihi to my younger self."
The project was created in partnership with advertising agency Colenso BBDO within a week after Bailey's pitch.
Angela Watson, managing director of Colenso BBDO, said, "When [Hāmiora] shared the concept of Pīkari Mai as a statement of expression and a tool to highlight indigenous news, we were compelled to help with its creation.
"The legacy of colonialism is reflected in everyday ways that you may never think of – from street names to statues.
"This has a lasting impact on the psyche and sense of belonging for us as tangata tiriti, and our relationship with indigenous peoples globally, and tangata whenua here.
"The upcoming coronation will dominate our airwaves and, whether you're a fan or not, you can appreciate how this is a reminder of the attempt to erase Māori culture in Aotearoa," she said.