More than one hundred researchers and scientists gathered in Rotorua this week for the final Science for Technological Innovation National Science Challenge All of Researchers' Workshop.
The three-day event brought together some of the nation's best in physical science, technology and mātauranga Māori. They included some of Māoridom's top scientists and researchers, such as astrophysicist Dr Pauline Harris, linguist Professor Hēmi Whaanga, computer scientist Kevin Shedlock, material scientist Dr Nancy Garrity and physicist Dr Ratu Mataira.
Te Taka Keegan, board co-chair for the Science for Technological Innovation - National Science Challenge (SfTI) says, "Ko te tino kaupapa kei runga i tēnei huihuinga kia noho tahi ngā kairangahau ki waenganui i a rātou anō kia whakawhiti whakaaro, kia whakawhiti kōrero, kia whakawhanaunga ki tētahi ki tētahi. Ki au koirā te tino hua o SfTI e āhei ana te whakawhanaunga tētahi ki tētahi."
"The importance of an event like this is to come together and allow researchers to discuss amongst themselves, deepen ideologies and build relationships. I believe that has been the biggest asset for SfTI, to be able to create enduring relationships."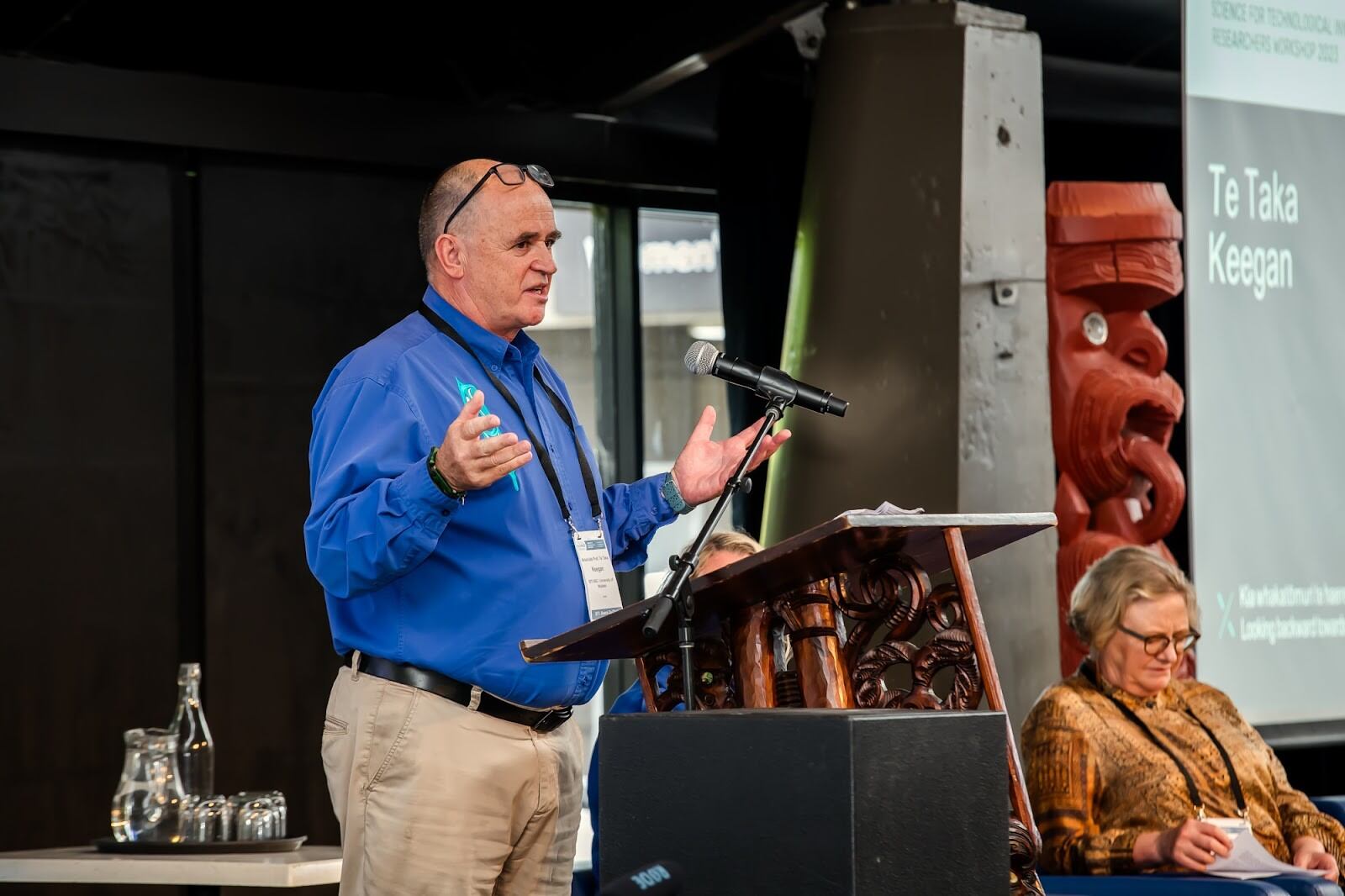 Keegan is widely known for his work involving Māori language and technology. He's trailblazed various projects working with tech giants, such as developing Microsoft's Māori keyboard to Google's translator toolkit for Māori where further work with Google led to Translate in Māori.
He says there are very few Māori in these spaces but numbers have slowly increased following the government's support to fund SfTI's 10-year science investment (2014-2024).
"E ai ki tō mātou titiro e rua pea, e toru pea ngā mea me ka whakapai ake mō ngā kairangahau Māori, tuatahi kia tokomaha ake ngā kairangahau Māori, tuarua, kia pai ake te pakari o ngā kairangahau Māori i roto i tā rātou ake mahi, tuatoru, ko tēnei mea te mātauranga kia whānui ake te hāngai ki te kiko o te mātauranga (Māori) i roto i te ao hangarau," hei tā Keegan.
"From our perspective, there were two or three things we wanted to improve for Māori researchers, firstly to increase the numbers of Māori researchers, secondly, to build their capability within their work, thirdly, knowledge used in this space to utilise mātauranga Māori in its innovation," says Keegan.
687 Researchers - 12% are Māori, 29% women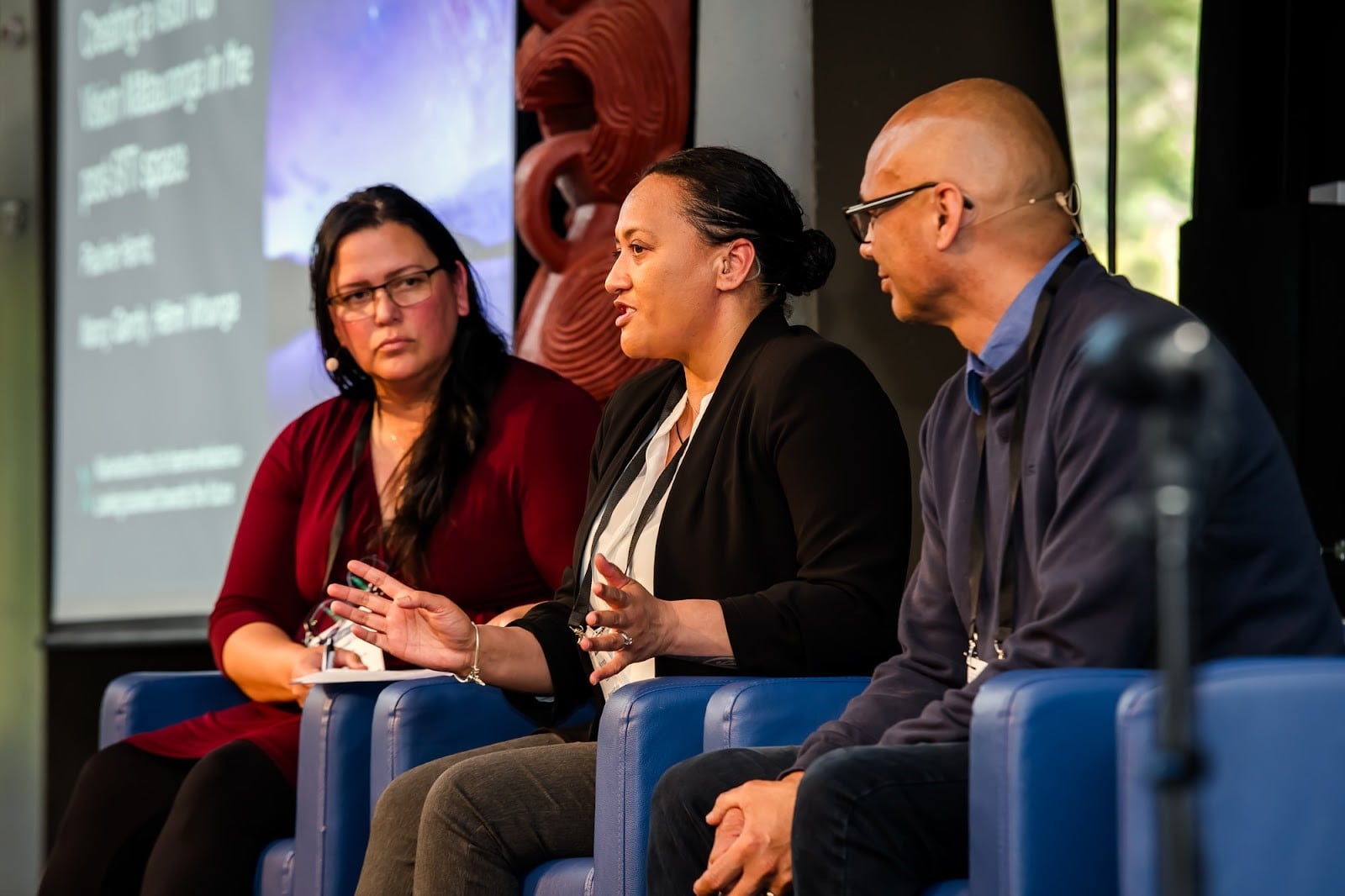 SfTI's overall mission is to enhance the capacity of Aotearoa to use physical sciences and engineering for economic growth and prosperity. Through its capacity development programme, it has meant Māori now make up 12% of the 687 SfTI researchers, while women make up 29% and 24% of them have been emerging researchers.
"I kite au i te rā nei mehemea ka mahi te kairangahau i tōna ake kaupapa koia anake tērā mehemea ka noho tahi ia ki tētahi atu ka whakawhānuitanga tana titiro, ka whakawhānui ake ngā painga o tana mahi rangahau. Nō reira tētahi tino hua ko te noho tahi te whakawhanaunga tahi, kare te tangata ko te kaupapa rangahau," te whakautu a Keegan.
"Usually, we have a researcher doing their work by themselves, but if we have them working with others (multi-disciplinary researchers and experts) collectively the scope broadens and the research becomes comprehensive. So the benefit is a collective approach to the research, it's not about the person, it's about the research," says Keegan.
SfTI director Sally Devonport says, "We're particularly proud of the ways in which mātauranga Māori has been increasingly central to our projects. This is down to some amazing mahi tahi which has enabled genuine research relationships to build at entry level from start to finish."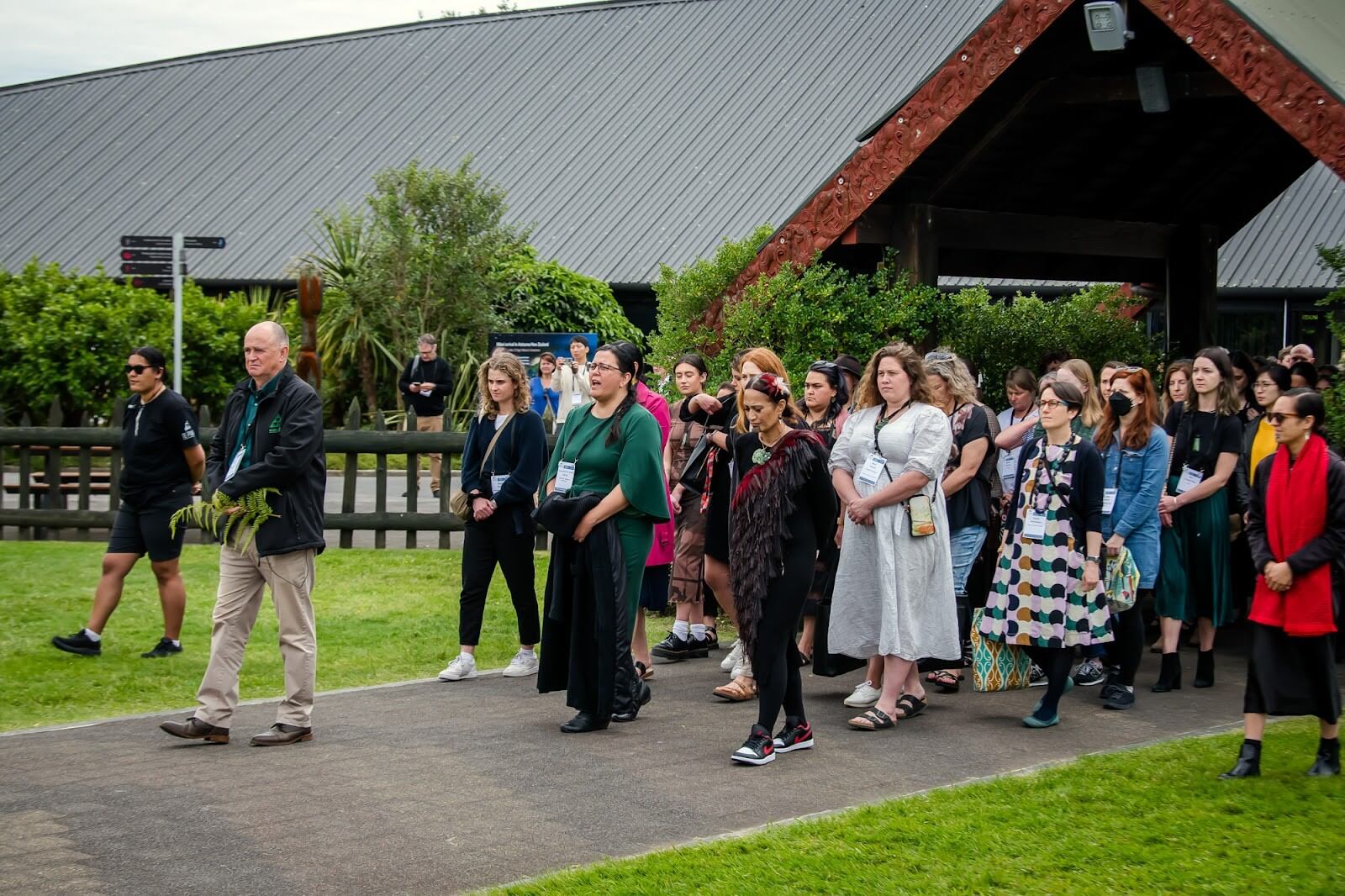 To date, $106 million has been invested in SfTI's 11 spearhead projects, 86 seed projects and many more initiatives. The cutting-edge research has fastened the dial across SfTI's technical themes, including robotics solutions for labour-intensive industries in Aotearoa, access to critical healthcare for all New Zealanders (particularly those in remote communities), technology to protect our unique natural environment and game-changing alternatives to currently unsustainable products.
Since 2014, SfTI has been able to collaborate with more than 50 industry organisations, that have included Māori and international partners, something that would not have been possible prior to SfTI.
One project for example, the 'Clean Water Technology for restoring Te Mana o te Wai' is where collaboration between a team of multi-disciplinary researchers - in partnership with Māori, iwi, councils and industry - came together to develop new technology for treating wastewater, with a mission to improve freshwater quality and restore the health of our awa (rivers) and streams. Underpinning the project has been strong co-development with iwi, consultation on natural materials and the input of indigenous scientists and mātauranga Maori.
Ko te wai te ora o ngā mea katoa, water is the life-giver of all things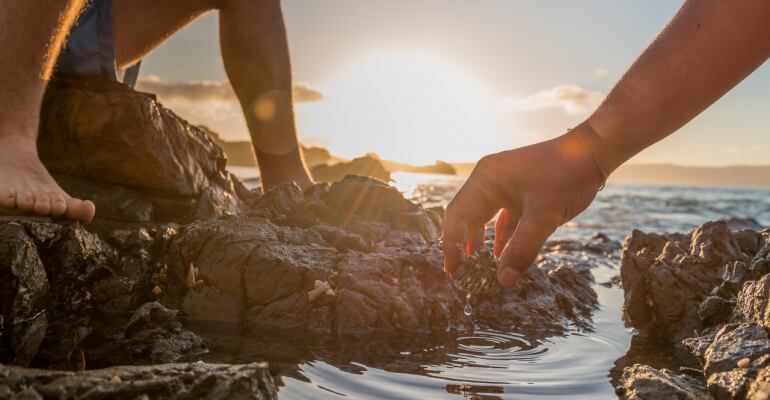 Whanganui iwi leader Ken Mair, who supported and helped create the values and principles for project development discussions with Māori, says, "It is extremely important to have values to leverage from to ensure that the right of the water is upheld and the first right goes to water in any [research] project. I think there is an in-depth understanding that water is life and that Māori, iwi, hapū values underpin that."
Rivers and lakes are integral to Māori cultural identity. Their health and well-being are intrinsically connected to the health and well-being of whānau, iwi and hapū. As the Whanganui pēpeha recites – Ko au te awa, ko te awa ko au, I am the river and the river is me.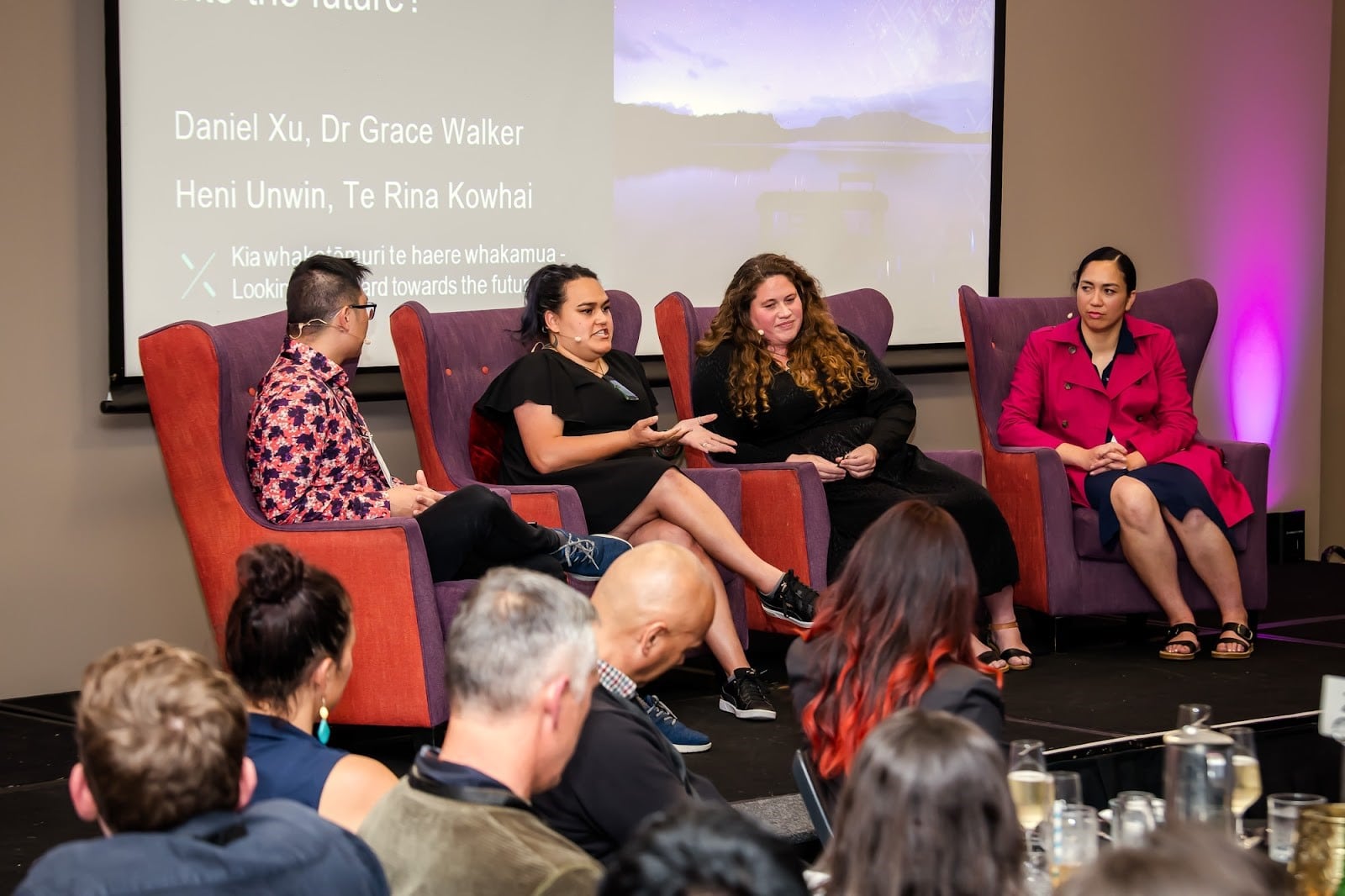 SfTI's goal a decade ago was to unite mātauranga Māori and western science to explore new and exciting opportunities to build a vibrant and prosperous technology-driven economy.
"I te rā nei, i ngā wiki tata nei kua kite i te puawaitanga o tērā moemoea, kua kite atu he maha ake ngā kairangahau Māori, he maha atu ngā pākehā e ū ana, e tiro ana, e rapu ana i te mātauranga Māori i roto i tā ratou mahi me te pakari o ngā kairangahau Māori pērā ki ngā tokotoru i tū pakari, he kōtiro māori he kōtiro rangahau engari i tū pakari i runga i te mana Māori i te mana motuhake. Ki au nei kua puawai tērā wawata."
"We've seen today, and the last few weeks we've seen, the growth of that initial vision. We've seen more Māori researchers, more Pākehā researchers delve into implementing mātauranga Māori in their work and for our Māori researchers owning this space, in particular, our panel of three young Māori women who stood confident and embody Māori autonomy and self-determination. I believe we've accomplished that."
The initiative will come to an end in June 2024, but many voiced at the conference that the work has only just begun and hopes that the incoming government will consider funding the initiative further.