Opposition MPs welcomed on Rātana Pā. Photo / NZME / Mark Mitchell
National wants Māori to succeed but co-governance won't be part of a National government if it's successful in October's general election.
Arriving at Rātana this morning, Christopher Luxon told media it was a great place for "some honest conversation with each other".
"The big topic of the day and of the past few years has been that word - co-governance," Luxon said.
"I think it has been quite a divisive and immature conversation over recent years, and I personally think it's because the government hasn't been upfront or transparent with the New Zealand people about where it's going and what it's doing.
A "single coherent system - not one system for Māori and another system for non-Māori," is how Luxon pitched National's view on Labour policies like the Māori Health Authority.
"It doesn't mean that we don't want Māori involved in decision-making and partnering with Māori. We have a principal objection because New Zealand has one government: it's elected by all of us, it's accountable to all of us, and its public services are available to anyone who needs them."
A 'single system of delivery'
Luxon argued National had worked well with Māori in commissioning services under the one system.
"I think about kōhanga reo, I think about Whānau Ora, innovations that were delivered within the coherency of a single system of delivery of public service."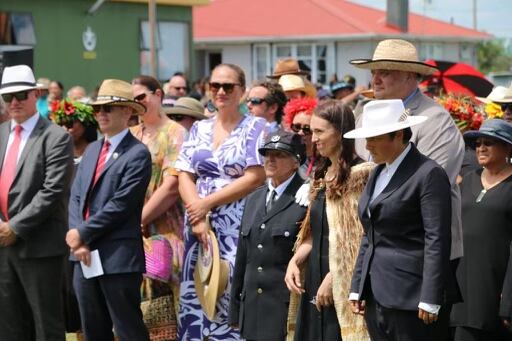 Chris Hipkins, Jacinda Ardern and Kiritapu Allan arrive at Rātana Pā. Photo / Pool
A difference without a distinction was how incoming prime minister Chris Hipkins characterised Luxon's remarks moments later.
National was the original government signatory on the United Nations Declaration of the Rights of Indigenous Peoples (UNDRIP) in 2010.
"Perhaps Christopher Luxon would like to say which of those he'd like to go back on." Hipkins said.
"The National Party's position on these issues seems to change quite a lot between when they're in government and when they're not,"
"John Key, Chris Finlayson and Bill English entered into a whole raft of co-governance arrangements."
Start of political year
Politicians from all shades of the political spectrum have descended on Rātana, which historically sets the political agenda for the year ahead.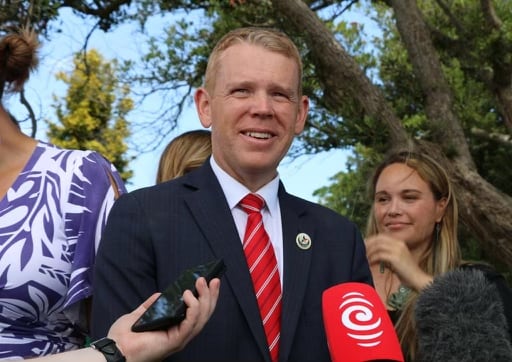 Incoming PM Chris Hipkins speaks to media at Rātana Pā. Photo / Pool
The shock resignation of Prime Minister Jacinda Ardern last week means today's speech will be her last as prime minister and Hipkins' first address to te ao Māori.
Hipkins said the relationship between Labour and the Rātana movement has always been important since TW Rātana first called on Michael Joseph Savage in 1936.
"I've been coming here for nearly 20 years now. My first visit was in 2004 when Helen Clark was prime minister.," Hipkins said.
Ardern and Hipkins had travelled to Rātana together, the incoming leader said.
'Bittersweet moment'
"[It was] nice for us to get an opportunity to spend a bit of time together, an opportunity to reflect on the past few years, so it's a bittersweet moment.
"I'm really honoured to be taking on the role but as is well known Jacinda's a very good friend of mine, and so it was nice to be able to be here with her."
Hipkins was asked if he was worried the stage might be set for an election based on race.
"I think that race relations should not ever be used as an issue to divide New Zealanders with," he responded.
Luxon addressed diversity issues within his party during discussions.
"We are a party that had a poor election result, we did not have the diversity that we want to have going forward but I'm incredibly proud of the progress we've made and I'm proud of the candidates that we'll take to the election in 2023."